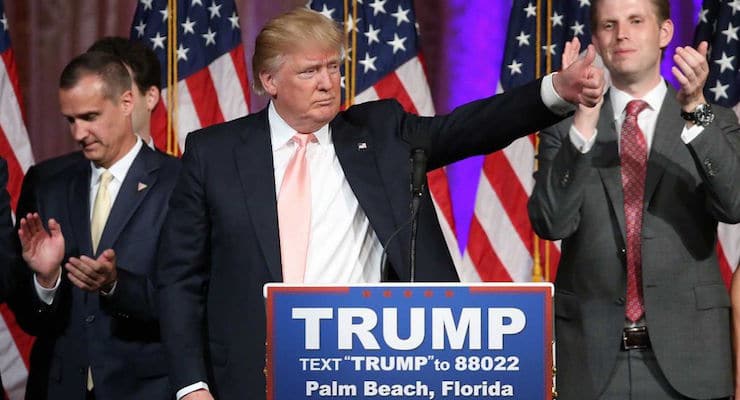 Trump Trouncing Rivals in Empire State Polling
Donald J. Trump is leading by a margin large enough in his own home state that he is positioned to take nearly all–if not all–of New York's 95 delegates. The New York Republican primary on April 19 awards delegates on a winner-take-most basis, but voting thresholds and his dominant lead make it possible the Empire State will be turned into a winner-take-all, similiar to the result in South Carolina.
A recent poll conducted by [content_tooltip id="38226″ title="Emerson College Polling University"] finds Mr. Trump leading his closest rival Texas Sen. Ted Cruz 64% to 12%, making the frontrunner the only Republican candidate to receive majority support among voters in his own state. While both Sen. Cruz and Ohio Gov. John Kasich won their respective home states, they did so with a less-than impressive margin of victory.
Mr. Trump leads by a smaller 54.5% to 11.5% on the PPD average of New York Republican primary polls, but the aggregate numbers include polls conducted prior to his victories in Florida, North Carolina, Missouri and Illinois.
"With Marco Rubio out of the race, Trump leads his closest rival, Texas Senator Ted Cruz, by 52 points (64% to 12%). Rubio received 4% of the vote before suspending his campaign," Emerson College Polling University said. "Ohio Governor John Kasich earned just 1%, getting no bounce from his recent home-field victory in the Buckeye State. In a hypothetical, two-man matchup between Trump and Cruz, Trump leads 69% to 25%."
Even in a head-to-head, the GOP frontrunner is likely to take all 95 delegates. Mr. Trump has the highest favorable ratings with primary voters, 71%/23%, followed by Sen. Cruz at 52% to 44% and Gov. Kasich at 54% to 34%. As we have seen in prior primaries and caucuses, though particularly in primaries, Trump supporters are the most loyal and likely to vote, with 89% of those who see him favorably saying they will cast their ballot for him. By contrast, only 21% of Republicans who have a favorable opinion of Sen. Cruz say they will vote for him.
"The polling and the geography of the upcoming contests underscore the difficult path forward for Sen. Cruz and anti-Trump forces in the GOP," said PPD's senior political analyst Richard Baris. "We expect Sen. Cruz to force the caucus contest in Utah into a winner-take-all, which will give him some decent media coverage and cause for optimism for a few days. But soon, reality will set in."
A new poll conducted by [content_tooltip id="38229″ title="Y2 Analytics"] and released on Saturday finds Sen. Cruz with 53% support among likely Republican caucus-goes and if that matches Tuesday's caucus vote, he'd win all of the state's 40 delegates. However, that number is less than half of what Mr. Trump will haul in from New York if the numbers hold, pairing them with California (172), New Jersey (51), Indiana (57), Pennsylvania (71) and other delegate-rich states where he is favored to win.
If a candidate receives more than 50% or only 1 candidate receives 20% or more of the vote in each of the state's 27 congressional districts, the candidate receives all 3 delegates. Another 14 at-large delegates–including 10 base at-large delegates, 1 bonus delegates and 3 RNC delegates–are bound to presidential candidates on a "winner-take-most" basis tied to the New York Republican primary result. Of them, 11 of these delegates–the 10 base at-large delegates plus 1 bonus delegates–are elected at the state committee meeting.
However, if a candidate receives more than 50% of the vote, that candidate receives all 14 delegates.