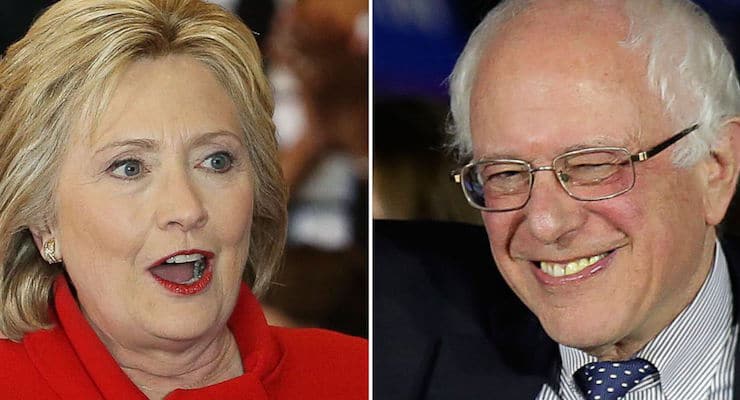 WISCONSIN DEMOCRATIC PRIMARY EXIT POLLS UPDATED BY THE MINUTE
According to early Wisconsin Democratic Primary exit polls, voters say Vermont socialist Sen. Bernie Sanders is more inspirational but see Hillary Clinton as more electable. The question highlights one of the divisions within the Democratic Party, which is often less cited than on the Republican side of the aisle.
Democratic primary voters in Wisconsin say Mrs. Clinton has a better chance to beat Republican front-runner Donald J. Trump in November. It's a result that captures the division between the Democratic candidates.
Sen. Sanders is winning 71% of independents compared to 29% for Mrs. Clinton. However, Mrs. Clinton leads 53% to 47% among Democrats, a far larger block of the electorate.
Enthusiasm Gap
While Republicans are breaking turnout records across the country, Sen. Sanders continues to generate the most excitement. About three-quarters of Wisconsin Democratic Primary voters are "excited" or "optimistic" about the prospect of a Sanders presidency. However, excitement for Sen. Sanders twice as high than it is for Clinton.
Honest & Trustworthy
Four in 10 Democratic primary voters in The Badger State say Mrs. Clinton is not honest and trustworthy, while 9 in 10 who say the opposite of Sanders. That's among Sanders' highest honesty ratings in any primary to date, even approaching his rating in his home state of Vermont.
Race
Whites represent more than 8 in 10 voters in preliminary Wisconsin Democratic Primary exit poll results, far more than the 60% they've averaged across the 2016 contests, thus far. Nonwhites make up fewer than 2 in 10 voters in the state–including just 1 in 10 who are blacks–far below their average levels this year, 40% and 26%, respectively.
That's obviously good news for the socialist senator from Vermont.
In previous contests, whites have voted 50% to 48% for Sen. Sanders juxtaposed to 72% to 26% for Mrs. Clinton among nonwhites. Sen. Sanders won whites in North Carolina, Missouri, Illinois and Michigan, though he actually lost them in Ohio, Florida and Mississippi.
Ideology
According to preliminary Wisconsin Democratic Primary exit polls, two-thirds say they're liberals, including a quarter who say they're "very" liberal. These results are on track to break previous records in Wisconsin Democratic primaries dating back to 1976. In 2008, when Barack Obama defeated Mrs. Clinton, only 46% were liberal and 16% were very liberal.
Not surprisingly, Sen. Sanders has done far better among liberals than he has with moderates and conservatives. However, only a quarter of Wisconsin Democratic Primary voters say they're moderates, which is on track to be a record low and well below the 40% measured in 2008.
Age
Sen. Sanders has dominated among young voters in previous contests, winning 70% of voters between the ages 18 to 29, while Mrs. Clinton won 73% of seniors. Thus far, this demographic has accounted for 17% of the vote so far in 2016, which could end up the highest in Democratic primaries since 1976, up from 14% in 2008, 9% in 2004 and 8% in 2000. However, they make up only a little more than 1 in 10 Wisconsin Democratic Primary voters in preliminary exit poll results.
Partisanship
Still, mainstream Democrats account for 7 in 10 voters in the preliminary Wisconsin Democratic Primary exit poll results, up from 62% in 2008. That, too, is on track to set a record in the state. While it would appear from the electorate's ideology that Sen. Sanders has the edge, this could prove to be a boon for Mrs. Clinton.
The former secretary of state has performed done better with moderate Democrats in primaries to date, while Sen. Sanders has thumped her among independents.
Trade
Sen. Sanders hammered the issue of trade ahead of the Wisconsin Democratic Primary and continued to do so at campaign events in Pennsylvania. He won a surprise victory in Michigan on the issue, marking the worst polling debacle since the 1984 Democratic New Hampshire Primary. Trade helped him make Missouri and Illinois much closer than expect, but Mrs. Clinton blunted that momentum in Ohio.
In Wisconsin, more than 4 in 10 say trade takes away more American jobs, while fewer than 4 in 10 think it creates more jobs.
Realistic Policies
Voters think Mrs. Clinton's policy proposals are more realistic than those proposed by Sen. Sanders' policies (three-quarters vs. nearly two-thirds), but that gap is smaller than it's been in previous primaries (76 vs. 57 percent). It's similar to recent states – Michigan, Missouri and Illinois – where Sanders has fought closely with Clinton.
Commander-in-Chief
Despite Clinton's far more extensive foreign policy resume, about as many think Sanders would be a better commander in chief as say so about Clinton.