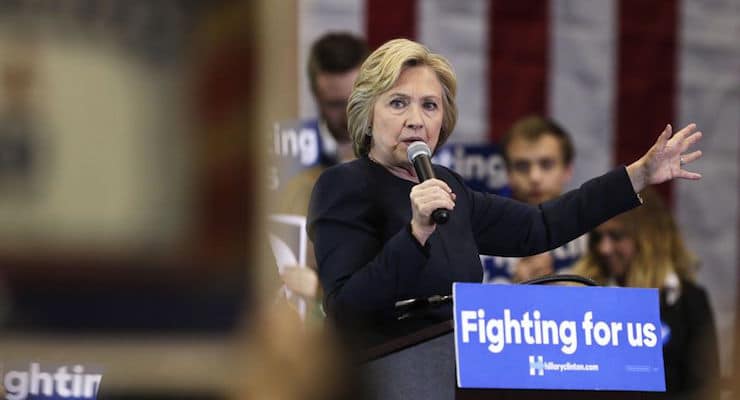 Democratic frontrunner Hillary Clinton has widened her lead against Vermont Sen. Bernie Sanders in a new California Democratic primary poll. In new [content_tooltip id="37972″ title="SurveyUSA"] Mrs. Clinton leads Sen. Sanders 57% to 39%.
While Sen. Sanders continues to lead among the youngest voters, Mrs. Clinton leads by 12 points among voters age 35 to 49, 34 points among voters age 50 to 64, and s45 points among voters age 65 and above.
Further, if the polling is accurate, Mrs. Clinton has majority support among every income group, while Sanders leads by 2:1 among first-time primary voters.
"This may be the end of the road for the Sanders campaign," said PPD's senior political analyst Richard D. Baris. "They don't believe these numbers and actually feel that they have a good shot to defeat Mrs. Clinton in the Golden State. It wouldn't be the first primary this cycle where the polling was grossly off."
There are a total 548 delegates up for grabs in the California Democratic primary, including 317 in the congressional districts. Another 105 are at large, 53 are Pledged PLEOs and 73 Unpledged PLEOs. Mrs. Clinton now leads on the PPD average of California Democratic primary polls by 10 points.
Still, the poll is good news for Mrs. Clinton in the short-term, but also demonstrates her general election weakness against presumptive Republican nominee Donald Trump. The poll results show that Mrs. Clinton is only ahead of Mr. Trump in California 52% to 38%, a very poor showing for a Democrat in a state the GOP hasn't carried on the presidential level since the 1980s.
Mrs. Clinton's 14-point edge over Mr. Trump stands in stark contrast to the margin Barack Obama enjoyed in 2008 and 2012. He carried California by 24 points against Sen. John McCain in 2008 and by 23 points against Gov. Mitt Romney in 2012. If Mr. Trump can increase his 3-point deficit among men to counter his 25-point deficit among women he might at least force her to defend a typically safe Democratic state.
The race tightens in the likely voter model. In fact, among Democrats who told SurveyUSA they are paying "a lot" of attention to Election 2016, Mrs. Clinton only leads Mr. Trump in California by 9 points, 50% to 41%. While Mr. Trump's negatives have remained constant over the past three polls conducted in California by SurveyUSA, Mrs. Clinton's negatives have increased over the same period.
In the race for Barbara Boxer's U.S. Senate seat, Attorney General Kamala Harris and Rep. Loretta Sanchez of Orange County are likely to advance to a runoff in the November general election. The poll showed Harris leading Sanchez 31% to 22%, respectively.