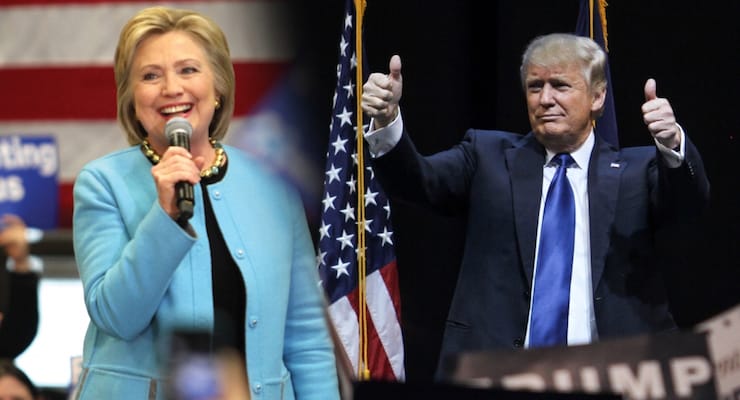 Presumptive Republican nominee Donald Trump has overtaken likely Democratic nominee Hillary Clinton on the PPD average of polls for the 2016 U.S. presidential election. Mr. Trump now leads Mrs. Clinton by 0.2% on the PPD average but also in three of the last five public polls conducted.
In fact, the CBS News/NY Times Poll, one of the five polls conducted since the nominee on both sides became more clear, shows Mrs. Clinton with a 6-point lead, strength not found in the other four polls. Whether or not the survey is an honest outlier appears to be irrelevent because the trend line is clear.
Voters now trust Mr. Trump more than Mrs. Clinton on the two top issues–the economy and terrorism. Mrs. Clinton, who served as the secretary of state under President Barack Obama, is seen more unfavorably than Mr. Trump, who has begun to turnaround his image. Still, PPD's senior political analyst and head of the PPD Election Projection Model, said when faced with contradictory data in early polls specific numbers can tell another story.
"Early polls have little predictive value as it relates to the headline numbers, but we are seeing some really dangerous numbers for Secretary Clinton," said Richard Baris, PPD's in-house numbers cruncher. "She simply cannot win with general election with the abysmal support among whites these surveys suggest, even with significant minority turnout."
In the NBC News/Wall Street Journal Poll, which is the most recent poll showing Mrs. Clinton with a small 3-point lead, she is only winning 36% of the white vote. That's roughly the same average nationwide Democratic candidates won in the 2014 midterm elections, which resulted in a Republican wave. While the same poll shows Mr. Trump's favorable rating is still worse (-29) than Mrs. Clinton's (-24), it's a remarkable improvement from his minus-41 score in April.
"This has never been matched, or even close to being matched," Democratic pollster Peter Hart, who conducted the survey with Republican pollster Bill McInturff, says of these negative ratings for Trump and Clinton.
But Baris said the historical unfavorable highs are not as remarkable as pace at which Mr. Trump has been able to bring them down. Further, he also had a word of caution about Mr. Hart and Mr. McInturff's past results this cycle.
"We always consider the bipartisan nature and effort of pollsters when we rate them on the PPD Pollster Scorecard," Baris said. "But ultimately, results matter. This particular pollster has been an outlier more than once this cycle. They were the only poll in six months to show Ted Cruz leading Mr. Trump nationally and yet still had the latter holding a slight lead in South Carolina. Of course, he won the Palmetto State in a landslide and those results weren't ever defendable."
Throughout the cycle PPD's research has found significant social desirability bias as it relates to Donald Trump, which is when people are reluctant to admit they support a candidate for one or more reasons. That continued to get significantly worse in the last seven contested primary states, when he outperformed his polling averages by double-digit margins.
Nevertheless, this marks the first time Mrs. Clinton has trailed Mr. Trump on the PPD average of general election polls.