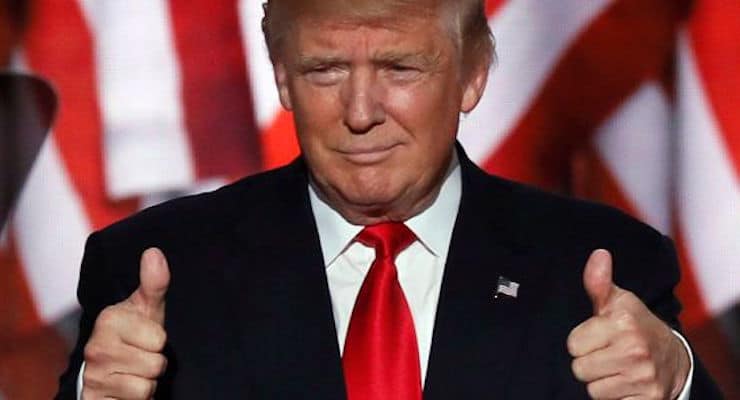 Donald Trump has not only retaken the lead on the PPD average of polls conducted after the Republican National Convention, but also improved on key indicators. Post convention bounces are common–though not in the most recently released CNN Opinion Research Poll–but the significant improvement the Republican nominee has experienced on image and competence issues, are not.
Mr. Trump now leads in all but one of the 7 national polls taken since July 15 by a margin ranging from 1 to 5 points. Depending on the poll, the lead is fueled by an increased margin among independents and further consolidation of Republican voters.
Overall
In the CNN/ORC Poll, Mr. Trump increased his support among independents, with 43% of them saying the convention in Cleveland made them more likely to vote for him. Still, 41% were not persuaded. This particular poll was an outlier pre-convention in the sense that independents were split slightly in favor (34%) of Mrs. Clinton over (31%) Mr. Trump, with significant percentages supporting former New Mexico Gov. Gary Johnson (Libertarian: 22%) and Jill Stein (Green Party: 10%).
Now, Mr. Trump is trouncing his Democratic opponent, with 46% saying they'll vote for him and only 28% backing Mrs. Clinton. Only 15% go for Gov. Johnson and 4% for Ms. Stein. Worth noting, the Morning Consult Poll, which more closely mirrors the aggregate data, explains "much of the shift can be attributed to a consolidation of the base among Republicans."
Eighty-five (85%) percent of Republicans in their new poll said they would vote for Mr. Trump, compared with less than 8 in 10 (79%) before the convention.
Image
Mr. Trump's overall favorability rating rose to 46% of registered voters who say they have a positive view, up from 39% who said so before the convention.
Despite the incessant mainstream media and official Democrat criticism, the message voters took away from the Republican National Convention was not divisive. The percentage of voters who now say Mr. Trump will unite the country rather than divide increased considerably to 42%, up from 34% before the convention.
A majority of voters also (52%) say the New York businessman–dubbed the "working class billionaire" who said in his speech "I am your voice"–is running for president for the good of the country, rather than personal gain. On the other hand, just 44% say the same about Mrs. Clinton. Prior to the convention, the aggregate polling, particularly in the battleground states, showed voters viewed him to be more honest and trustworthy than his opponent.
Now, in the CNN/ORC, he's up 5 points on this measure from 38% to 43%; 7 points on "would be proud to have him as president" (from 32% to 39%); and, nearly half now say understands and is in touch with the problems ordinary Americans face in their daily lives, up 9 points from 37% pre-convention to 46%.
Competence
Mr. Trump is now viewed more fit for the office and opened up wide double-digit leads on the issues voters say are most important to their vote. In the CNN/ORC Poll he now holds double-digit leads over Clinton as more trusted on the economy and terrorism, while cutting into Mrs. Clinton's advantage on ovreall foreign policy–the one top issue she led him on. Now, 50% say they trust her more on foreign crisis and policy, but it's down 7 points from 57% who said so before the convention.
Impact on Clinton
For weeks, even months, both Democrats and Republicans have been harping on The Donald's historically low favorability ratings. However, even before the convention, voters' views on the two candidates–though still weak on both accounts–decidedly turned against Mrs. Clinton. Now, 68% now say the former secretary of state is not honest and trustworthy, marking the worst rating measured in CNN/ORC polling to date.
Her support among non-college, or working-class white voters, has fallen all the way to the low 20s (23%). There is slim to zero chance Mrs. Clinton will win in the fall if those numbers do not climb significantly higher.
Still, let me leave you with a comment from Larry Sabato at the Crystal Ball, the University of Virginia Center for Politics. Speaking before the convention, he said "mark down mid-August on your calendar. The convention/VP bumps will have faded and we'll see the baseline for the fall."
Amen, Larry! I've been saying top line numbers prior even to Labor Day have little historic and predictive value. However, there are always certain data sets I'm watching for that give me a better understanding of the fundamentals in an election season. Obviously, I think they are starting to become more clear.