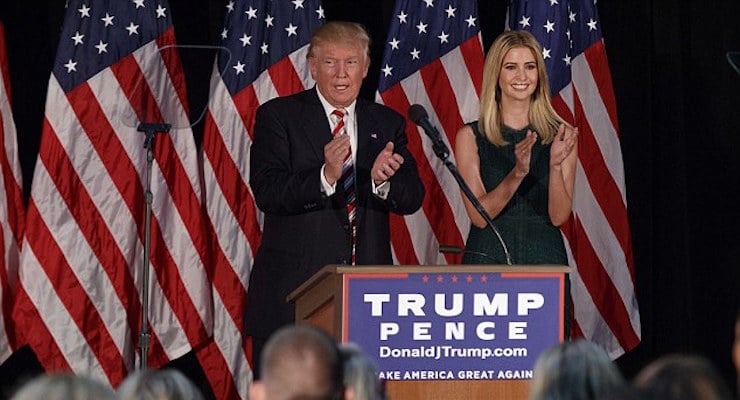 Republican presidential candidate Donald Trump has opened up a 5-point lead over Democratic presidential candidate Hillary Clinton in the Ohio, new polling finds. No president has won the White House without carrying the battleground Buckeye State since then-incumbent Republican Vice President Richard Nixon was defeated by Democrat John F. Kennedy in 1960. No Republican presidential candidate has ever won the White House without it.
A new Bloomberg Poll conducted by Selzer & Company finds Mr. Trump leading Mrs. Clnton in a 4-way matchup 44% to 39%, with Libertarian Party candidate Gary Johnson receiving 10% of the vote and Green Party candidate Jill Stein with 3%. In a head-to-head matchup, the New York businessman still leads the former secretary of state by 5 points, 445 to 39%. The results are in line with a recent Quinnipiac University Poll showing Mr. Trump leading Mrs. Clinton by 4 points in Ohio.
(UPDATE: A new CNN/ORC Poll (B) finds Donald Trump leading Hillary Clinton 46% to 41%, with Gov. Gary Johnson at 8 and Dr. Jill Stein at 2%. In a head-to-head matchup, The Donald still leads 50% to 46%, cracking the highly significant majority threshold vote.)
This marks a big shift in the race not only from a few weeks ago, but from 2012. While President Barack Obama defeated Gov. Mitt Romney 51.1% to 47.2% in the national popular vote, he barely carried Ohio by roughly 2 points, 50.67% to 47.69%.
Further, Republicans also increased their lead on the generic congressional ballot, leading their Democratic counterparts 51% to 38%. Incumbent Republican Sen. Rob Portman, who has embraced the party nominee and his pro working class message, has widened his lead over Democrat Ted Strickland 53% to 36%. The race is now rated LIKELY REPUBLICAN by the PPD 2016 Senate Election Projection Model.
(UPDATE: A new CNN/ORC Poll (B) finds Sen. Portman crushing former Gov. Strickland, a Clinton ally, 58% to 37%.)
Worth noting, the poll was conducted from September 9 to 12, before the Republican unveiled his childcare plan in Pennsylvania Tuesday night. That's also mostly comprising interviews that took place before Mrs. Clinton called half of Trump voters a "basket of deplorables" and largely prior to Mrs. Clinton collapsing at the 15th memorial service for the September 11, 2001 terror attacks in New York City.
During the primary, Mr. Trump lost the state of Ohio to hometown Gov. John Kasich with more votes than Mrs. Clinton received when defeating Sen. Bernie Sanders. The Buckeye State is now rated LEANS TRUMP by the PPD 2016 Presidential Election Projection Model.