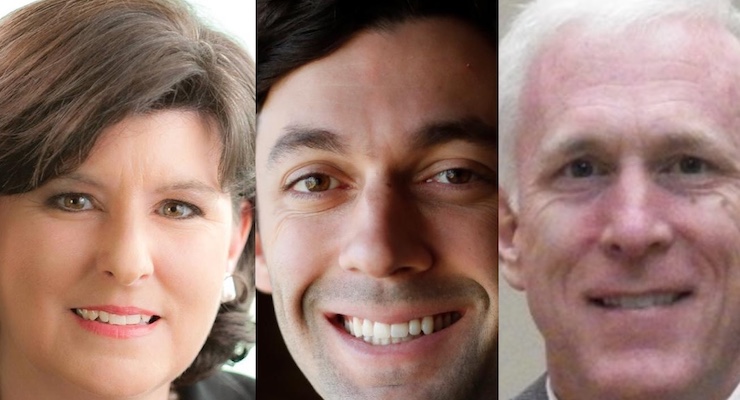 A new RRH Poll sponsored by Decision Desk HQ finds Democrat Jon Ossoff leading a crowded field in Georgia's 6th Congressional District, but not by enough to win. Eighteen candidates filed to run: 11 Republicans, 5 Democrats, and 2 independents, and Mr. Ossoff is ahead with just 39% of the vote, followed by Republican Karen Handel with 15% and Bob Gray with 12%.
All candidates will compete in the same general election on April 18 and, if no candidate receives at least 50% of the vote, which is almost a certainty, the top two vote-earners will compete in a runoff regardless of party affiliation on June 20.
"This number is even lower than our target ceiling for Democratic candidates in the 6th Congressional District and is just not good enough," Rich Baris, the head of polling and election projection at People's Pundit Daily said. "Combined Republican support is far more than Ossoff's and, in fact, isn't all that far from Tom Price's performance in 2016."
The poll found Dan Moody trailing Mr. Gray with 11%, and Judson Hill at 10%. The poll also surveyed another Democrat, Ron Slotin, who earned 4% overall in the poll, and David Abroms, a Republican being backed by Evan McMullin, who earned 3%. With Slotin's share of the vote, Ossoff is still about two points below the ceiling calculated by PPD's Battleground State Likely Voter Metrics.
Democrats had hoped President Donald J. Trump, who underperformed significantly in the district, would be a drag on the ticket in an off year. President Trump only edged out Hillary Clinton by less than two points in the Atlanta-suburb district, which still voted for his Health and Human Services secretary by nearly 30 points. The poll found 46% approve and 46% disapprove of his job performance.
The state and national Democratic Party quickly coalesced behind Mr. Ossoff, the establishment-picked candidate and are already holding D.C. fundraisers for him. They have recruited a celebrity, Alyssa Milano, who doesn't have any roots in Georgia's 6th Congressional District, to help Mr. Ossoff, who also doesn't live in the district. Still, combining the share all Democratic candidates and Republicans candidates earned, the Republicans lead slightly with 51% to 43%.
Democrats initially held a large early vote lead, but Republicans are now closing in on their advantage.
Early Voters
Jon Ossoff (D) 50%
Ron Slotin (D) 6%
All Democrats surveyed 56%
Karen Handel (R) 13%
Dan Moody (R) 13%
Judson Hill (R) 7%
Bob Gray (R) 6%
David Abroms (R) 3%
All Republicans surveyed 42%
Undecided (RRH categorized this as "other" since the surveyed voters picked "already voted"): 4%
Handel is the slight Republican favorite among those who have yet to cast their ballots. Even though Ossoff is still ahead, he does not have enough votes left in the field (if Republicans vote) to clear the threshold. For Democrats, it is imperative that turnout among Republicans remain low and he clears the bar during the first round of voting. If not, Republicans will retain control of the traditionally Republican district, only 46.8% of which backed Hillary Clinton.
Not Yet Voted
Ossoff (D) 35%
Handel (R) 16%
Gray (R) 15%
Hill (R) 11%
Moody (R) 10%
Slotin (D) 1%
Abroms (R) 1%
Undecided 7%
"While it's true Mr. Ossoff leads the entire crowded field, we do not believe he has the ceiling to defeat an equal Republican in what is likely to be runoff," Mr. Baris added. "The fundamentals of the race, the latest data from the PPD Battleground State Likely Voter Metrics and now this poll, all still point to a Republican advantage."
The survey of 321 Likely Voters was conducted from April 5-10, 2017 using both an IVR automated phone survey (220 voters) and an online survey (101 voters) and has a margin of error of 5%. All survey design and data analysis is the responsibility of RRH Elections; funding was provided by their readership and co-sponsorship by Decision Desk HQ.