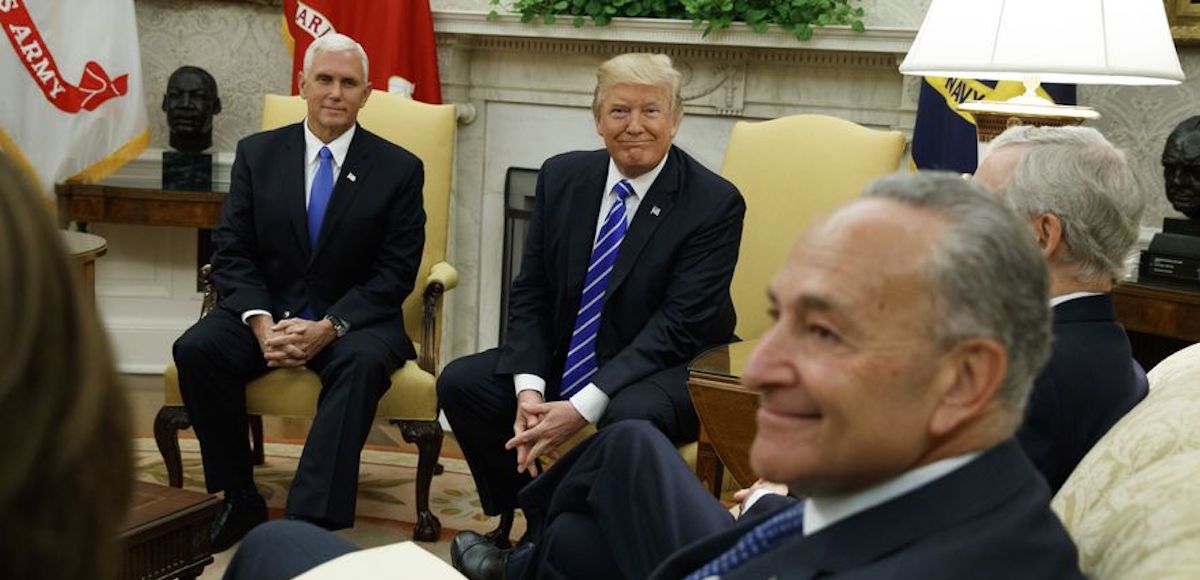 President Donald Trump held a meeting with Senate Minority Leader Chuck Schumer, D-N.Y., and House Minority Leader Nancy Pelosi, D-Calif., in the Oval Office of the White House on Wednesday to discuss a deal on Deferred Action for Childhood Arrivals (DACA) and border security.
Within an hour, Sen. Schumer and Rep. Pelosi released a joint statement declaring victory on DACA with no funding for the The Wall. By Thursday morning, President Trump took to Twitter to deny he made a deal on DACA amid outrage from his base, though a series of tweets seem to imply he already caved.
It's no wonder a new poll finds most voters don't think Congress can pass legislation for so-called "Dreamers" in the near future. Attorney General Jeff Sessions announced almost two weeks ago that President Trump decided to end DACA, but gave lawmakers six months to iron out a deal to send to him desk for his signature.
The Rasmussen Reports national telephone and online survey finds that only 35% of Likely U.S. Voters think it's likely comprehensive immigration reform legislation will pass Congress in the next six months, including only 9% who see it as Very Likely. Fifty-seven percent (57%) say it's unlikely, with 22% who say it's Not At All Likely.
Worth noting, American voters continue to say they want the border secure before anyone is granted legal status. Only 34% say those who are now in this country illegally be granted legal status right away, while 48% say only after the border is secured.
The plurality includes 70% of Republicans, 48% of voters not affiliated with a political party and even 28% of Democrats. Forty-eight percent (48%) of white voters want the border secured first and 44% of black voters agree. Worth noting, 52% of "other," to include Hispanics and Asians, also want a secure border before legal status.
The survey of 1,000 Likely Voters was conducted on September 6-7, 2017 by Rasmussen Reports. The margin of sampling error is +/- 3 percentage points with a 95% level of confidence.