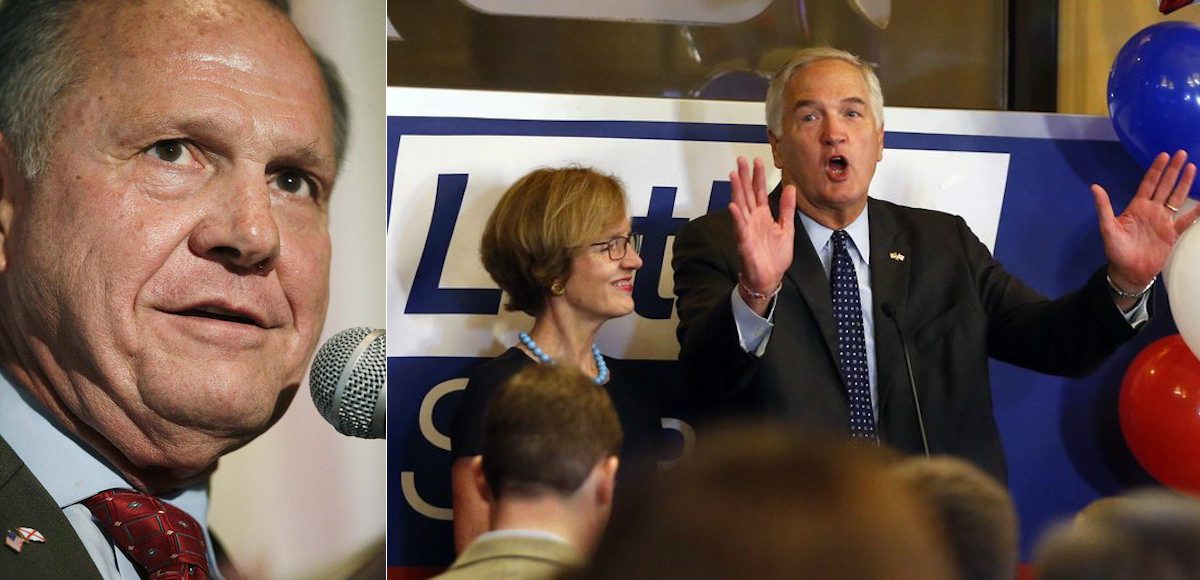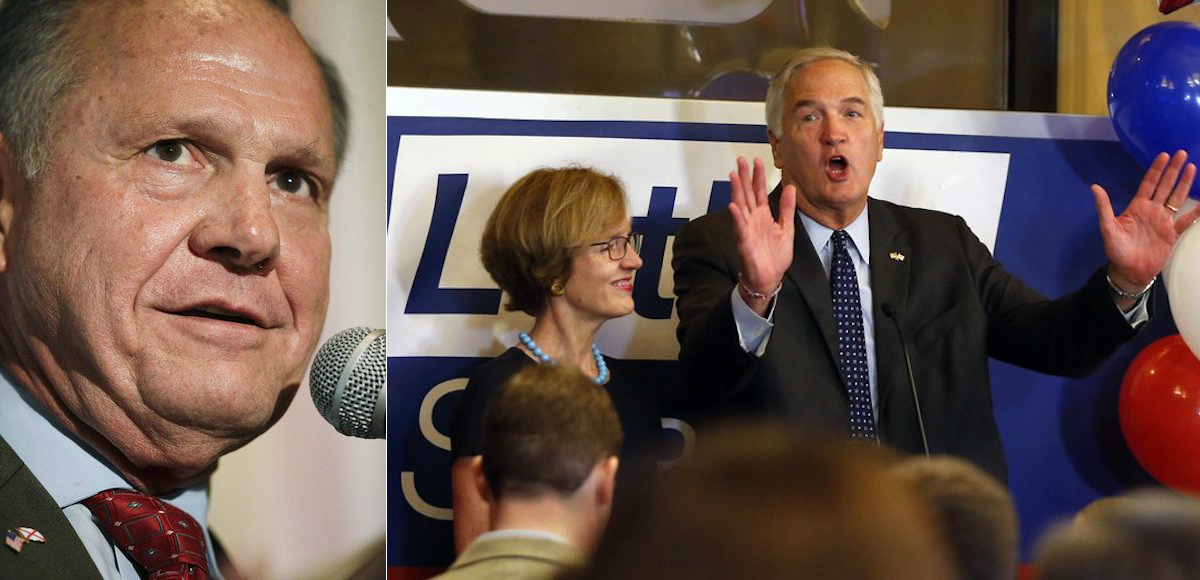 President Donald Trump may have endorsed Luther Strange in the runoff, but Roy Moore is getting the lion's share of his base in two new Alabama Senate polls. The two men advanced to the runoff on September 26 to replace Attorney General Jeff Sessions in the U.S. Senate after the first round of voting.
Judge Moore received 38.9% of the vote, or 162,570 total votes, while incumbent Sen. Strange earned 32.8%, or 136,910 total votes.
As our county-by-county post-election analysis explained, private polling data conducted by PPD a week before indicated that nearly two-thirds of voters who planned to back Rep. Mo Brooks would vote for Judge Moore against Sen. Strange in the runoff. Given we underestimated the judge by several points, it is entirely possible some of those voters already made that strategic voting decision.
A new Emerson Poll finds voters who approve of President Trump are breaking for Moore 51% to 32%. However, the Emerson Poll found voters in Alabama gave President Trump a 52% job approval and 36% disapproval rating, significantly lower than the PPD Big Data Poll (68%) and the 82% a new Strategic National Poll found have a favorable view of him.
The Emerson Poll also finds supporters of Rep. Brooks, who earned 20% in the first round of voting in August, are splitting their vote between Judge Moore and Sen. Strange, with about 33% breaking for each candidates and another third being undecided.
Strategic National finds half of primary voters are aware of President Trump's endorsement, yet overall Judge Moore leads overwhelmingly 51% to 35%. Only 16% had a very favorable view of the incumbent, while 34% had at least a somewhat favorable view. That compares to 33% and 29% for Judge Moore, respectively. A whopping 58% had a very favorable view of President Trump, with another 24% holding at least a somewhat favorable view.
The Emerson Poll overall finds Judge Moore leading Sen. Strange 40% to 26%, with 34% undecided.
Aside from likability, even if the Emerson Poll is closer to the split among "Brooks Voters" than the PPD Big Data Poll when undecideds are allocated, our previous post-election analysis only gave Judge Moore roughly half of the support that backed Rep. Brooks.
We found there are 24 additional counties in which Judge Moore could carry the majority in the two-way matchup, including several larger counties. It is unlikely Jefferson County, which is the largest and went for Sen. Strange 44% to 27% for Judge Moore to 21% for Rep. Brooks, would be enough to offset the slide in the rest of the state.
The eventual winner will go on to face Democrat Doug Jones, the Establishment favorite who beat Robert Kennedy, Jr. While there has been some chatter, mainly from a liberal media hoping Judge Moore is too conservative for Alabama, we find that assertion ludicrous. This race is rated Safe Republican on the PPD Senate Election Projection Model.