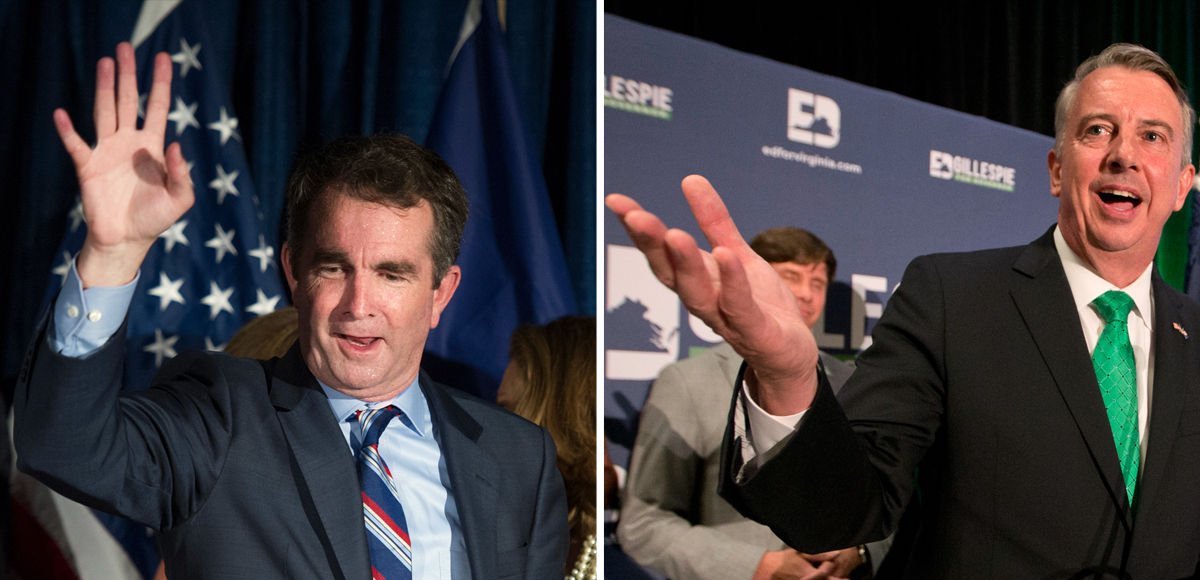 Democrat Ralph Northam leads Republican Ed Gillespie 49% to 44% in the latest Virginia governor poll conducted by Emerson College. Libertarian nominee Cliff Hyra takes 2%.
On Friday, President Donald Trump endorsed Mr. Gillespie, the former chairman of the Republican National Committee. The President is more popular than sitting Democratic Governor Terry McAuliffe, though the state's slight Democratic bent is still handing an edge to Mr. Northam.
Ralph Northam,who is running for Governor of Virginia,is fighting for the violent MS-13 killer gangs & sanctuary cities. Vote Ed Gillespie!

— Donald J. Trump (@realDonaldTrump) October 6, 2017
Forty-two percent (42%) view the President of the United States favorably in the once solidly Republican state, while just 39% view their governor positively. Mr. Northam has a slightly favorable 42%/39% ratio, while Mr. Gillespie has a 43%/42% favorable ratio.
Democrats led on the generic ballot for the Virginia House of Delegates, 48% to 44%, even though independents break for the Republican candidate 42% to 38%.
A plurality of Virginians, 44%, support keeping Confederate monuments on public property, including 20% of Democrats, 73% of Republicans and 49% of independents. Thirty-seven percent (37%) say these monuments should be displayed only in museums or exhibits, including 57% of Democrats, 13% of Republicans and 32% of independents.
Only 4% of Virginians say the monuments should never be displayed.
Worth noting, 48% of white voters oppose the public display of the Confederate flag, while 35% of black voters support it. Overall, 30% support the public display of the Confederate flag on public property, while 50% are opposed.
Bottom Line
While a recent poll by the Washington Post shows a blowout 13-margin for Northam, the more accurate Emerson College Poll shows him leading in a still-competitive race. In 2013, the same Washington Post poll gave Gov. McAuliffe a giant 51% to 39% lead over Ken Cuccinelli, while the race came down to under 3 points.
Still, the Old Dominion should think about changing its name to the New Dominion, as PPD's Battleground State Likely Voter Metrics show it is the only competitive state to show positive movement toward Democrats over the last year and since the election.
Partisan affiliation data collected by PPD from August 21 to August 25 in Virginia found a Democrat +4.1 spread, an advantage that is more than 2 points from the previous year. Ironically, the ideological split is still Conservative +10.7. President Trump's approval rating in the state stood at 44%, while 50% disapproved.
Methodology
The Virginia Emerson College poll was conducted October 5 through October 7, 2017, in both English and Spanish, under the Supervision of Professor Spencer Kimball. The sample consisted of early voters and registered voters who indicated that they are somewhat or very likely to vote, n=318, with a margin of error (MOE) of +/-5.5percentage points.
The Virginia data was weighted by region and 2016 vote results.
It is important to remember that subsets based on gender, age, party breakdown and education carry with them higher margins of error, as the sample size is reduced. Data was collected using an Interactive Voice Response (IVR) system of landlines only.