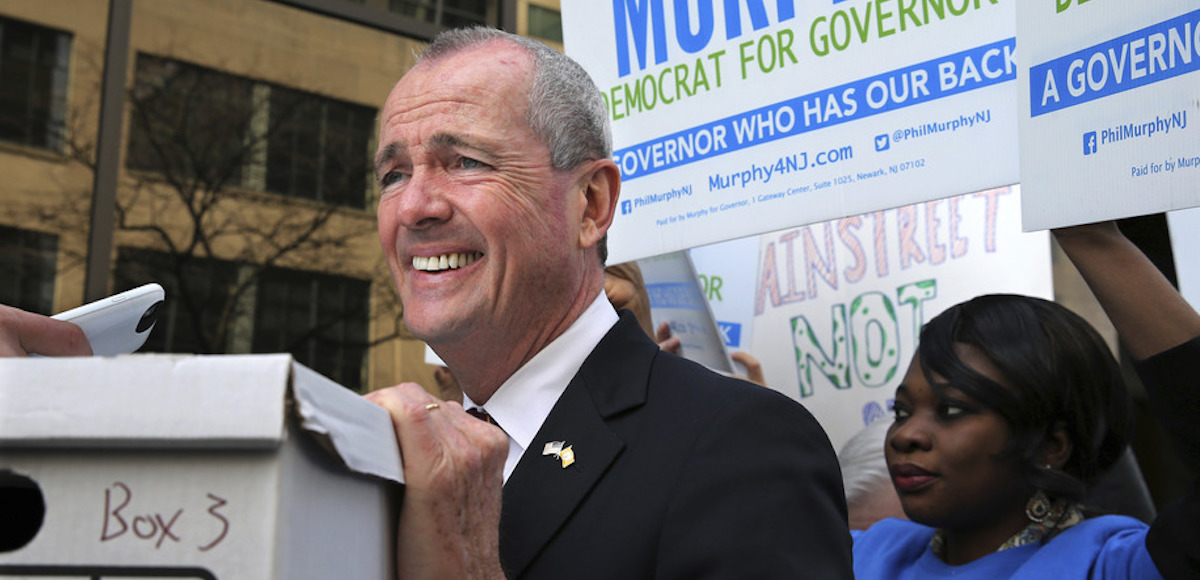 A new Emerson College Poll finds Democrat Phil Murphy leads Republican Lieutenant Governor Kim Guadagno by 16 points — 47% to 31 — up from an 11-point lead in early October. The full press release can be viewed here.
Mr. Murphy's favorability rating – at 36% favorable and 30% unfavorable –is better than Lt. Gov. Guadagno's at 27%/42%. However, while both are maintaining high "neutral/no opinion" numbers — 32% and 26%, respectively — one of them is heading in the wrong direction.
Emerson College Polling Director Professor Spencer Kimball told People's Pundit Daily (PPD) the shift in favorability "is a strong indicator that the two campaigns are moving in different directions" and could result in a "blowout" in November.
The Republican candidate pounced on Mr. Murphy's support for making the state a sanctuary city, but Garden State voters oppose 43% to 39%. But the controversial ads run by the campaign of Lt. Gov. Guadagno may have backfired. Forty-five (45%) of those who have seen or heard about it say it made them less likely to vote for her juxtaposed to only 30% who say it made them more likely to support.
"It seems the issue of sanctuary cities is controversial and might be able to increase the Republican turnout," Professor Kimball said. "But when asked specifically about the use of the issue in the campaign the undecided voters are not really being swayed."
Meanwhile, the corruption trial surrounding Democratic Senator Bob Menendez may not be having an impact on the gubernatorial election, but they have taken a serious toll on the incumbent, himself. Only 7% say they trust him, 15% say it will impact their vote and a plurality (38%) expect him to be convicted.
Methodology
The New Jersey Emerson College poll was conducted October 26th -28th, 2017 under the Supervision of Professor Spencer Kimball. The sample consisted of only very likely registered voters, n=540, with a margin of error (MOE) of +/-4.2 percentage points. The New Jersey data was weighted by gender, age, party affiliation, 2016 vote, and mode of data collection. It is important to remember that subsets based on gender, age, party affiliation, and education carry with them higher margins of error, as the sample size is reduced. Data was collected using both an Interactive VoiceResponse (IVR) system of landlines only and an online panel provided by Opinion Access.