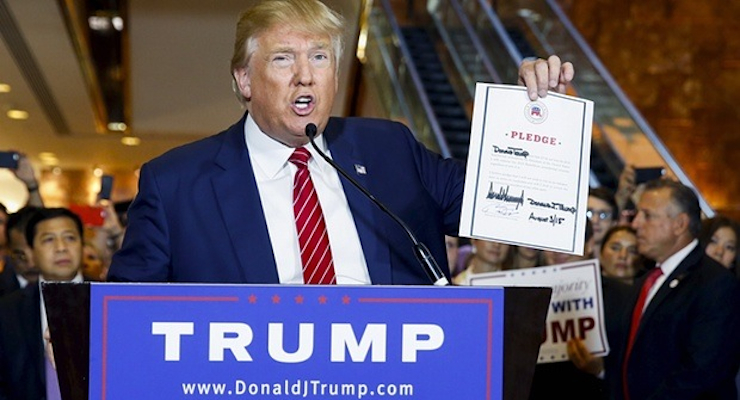 [brid video="15209″ player="1929″ title="Michael Reagan on Donald Trump "My Father Would Be Appalled""]
Michael Reagan, the son of the Republican standard-bearer President Ronald Reagan, said the comparison of his father with Donald Trump is not accurate. Several people, including former New York City Mayor Rudy Giuliani, and the billionaire mogul himself, are comparing The Donald to the 40th president, but according to his son President Reagan "would be appalled" at the frontrunner's rhetoric.
"My father would be appalled," Michael Reagan said during an appearance on Newsmax Prime. "On behalf of my father and the Reagan family to see someone like this who just personally attacks people time and time and time again is absolutely appalling to me and I hope all the voters start to see through Donald Trump and the kind of candidate that he his and the kind of president he may end up being."
Reagan said his father really did believe in what the former president coined the "11th Commandment," which is "Thou shalt not speak ill of any fellow Republican." However, Trump, and many of his supporters, would argue that he is simply a counter-puncher, and has not started any of the recent dust ups with his fellow-candidates.
"I don't like and I don't appreciate the things he says about Jeb Bush, or what he says about Gov. Perry or anybody else," Reagan said. "I want to hear what he's going to do and when he tells us what he's going to do, I can be for or against it."
Nevertheless, according to the PPD average of national Republican nomination polls, Trump has a double-digit lead over his rivals including Bush and Perry, who recently suspended his campaign.