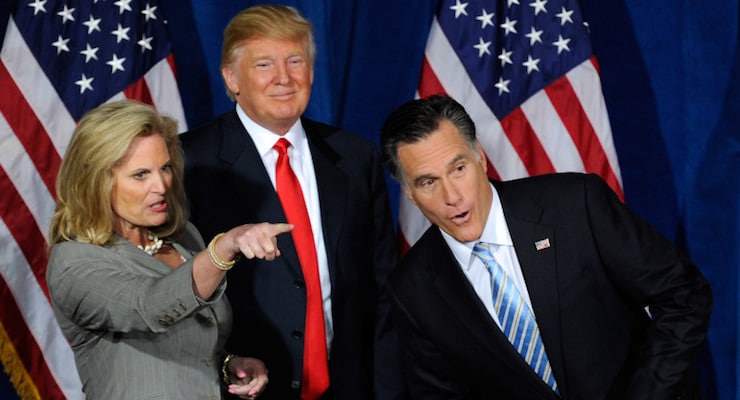 [brid video="29354″ player="2077″ title="Watch Donald Trump Endorse Mitt Romney for GOP Presidential Candidate"]
On Feb. 2, 2012, roughly a week after Newt Gingrich destroyed him in South Carolina, Mitt Romney praised Donald Trump on the economy and his success. In Las Vegas only two days later, Gov. Romney was hoping to gain an edge in the Nevada Republican caucus, which Trump won this cycle with more votes than the entire 2012 combined. But the real danger was Romney's pole position going into Super Tuesday.
Yet, during a speech Thursday on friendly Utah University territory, Romney slammed Trump as a "phony" and a "fraud" that doesn't have a successful business record.
Why are we posting this? The intent isn't only to show hypocrite Mitt, a two-time loser who has no business telling anyone Republican voter how to vote in their state, but also to explain that even losers still owe the puppet master. If any voter is deluded enough to think Republican power brokers are concerned about conservatism or the party–enough to parade out a New England liberal to talk about political philosophy–and not the status quo that feeds, you now have more food for thought.
Looks like Trump was wondering the same thing.
Why did Mitt Romney BEG me for my endorsement four years ago?

— Donald J. Trump (@realDonaldTrump) March 3, 2016