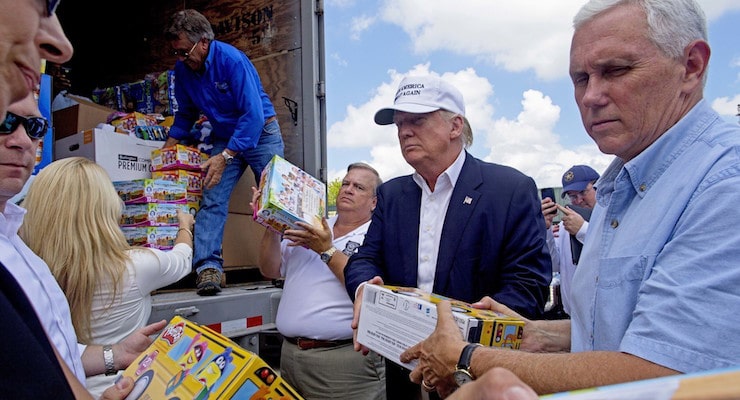 [brid video="59692″ player="2077″ title="Louisiana Flood Victims to Trump "We Knew You Would Be Here for Us!""]
Donald Trump received a warm welcome from Louisiana flood victims as he toured the devastation in Baton Rouge with Indiana Gov. Mike Pence.
As a result of the devastating flood in Louisiana and Mississippi, more than 80,000 people have sighed up for assistance from the Federal Emergency Management Agency. The flood waters destroyed 40,000 homes and killed 13 people this week.
"We knew you would be here, Mr. Trump," one woman yells to the candidate. "We knew you would be here for us!"
"We're glad you aren't playing golf," another person yells out. President Barack Obama was playing golf yesterday with 'Seinfeld' creator Larry David on his vacation in Martha's Vineyard. He took a break from his time off to hold a fundraiser for Democratic presidential candidate Hillary Clinton, who tweeted out about the devastation while she herself took a day off.
Closely monitoring the flooding in Louisiana & Mississippi. The @RedCross is helping displaced families in need: https://t.co/sSYTbQMndP -H

— Hillary Clinton (@HillaryClinton) August 16, 2016
"Mr. Trump! Thank you so much. We love you," yet another person shouts out, as the New York businessman signs hats. He and Gov. Pence handed out supplies and aide.