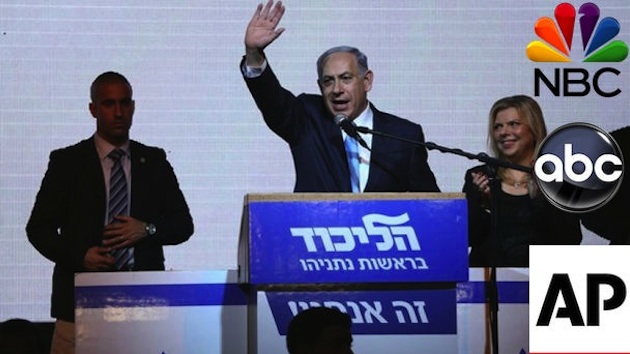 The American mainstream media coverage of the Israeli elections Tuesday consisted of one main theme: Netanyahu is the reason Palestine cannot coexist with Israel. Israel's longest-serving premier, Benjamin Netanyahu, led his Likud Party in a stunning and overwhelming comeback victory, which according to mediates, apparently means the end to the possibility of peace in the Middle East.
Let's take a look at some of the "reporting" from the Associated Press, NBC News and CBS News, then scrutinize their assumptions.
AP
"Netanyahu's return to power for a fourth term likely spells trouble for Mideast peace efforts and could further escalate tensions with the United States," the Associated Press reported.
"The Palestinians, fed up after years of deadlock with Netanyahu," the AP asserted as a result of Netanyahu's win, "are now likely to press ahead with their attempts to bring war crimes charges against Israel in the International Criminal Court."
"Now, more than ever, the international community must act," Saeb Erekat, a Palestinian official told the AP.
NBC News
NBC Nightly News interim anchor Lester Holt, who took over for the disgraced Brian Williams, opened the show's first tease by declaring that the "dramatic finish to a fight for power" has ended with "the last-minute threat that could destroy any chance of a peace plan."
Andrea Mitchell reporting from Likud headquarters in Tel Aviv, declared that the election "has left years of American peace efforts in the Middle East teetering on the brink" after Netanyahu "shut the door on a two-state peace solution, rejecting an idea of a Palestinian state, long a key pillar of American diplomacy in the region."
"This has profound implications that could mean the end of peace with the Palestinians, the end of peace with President Obama," Mitchell said, adding it will "change the course of history in the Middle East for years to come."
CBS News
CBS Evening News anchor Scott Pelley tossed to CBS "correspondent" Barry Petersen, who made sure to point to the narrative that Netanyahu is a "racist" for opposing a two-state solution and commenting Arabs were voting in droves, portraying Netanyahu as against peace.
"Peace will be hard," Petersen said. "Netanyahu is opposed to a Palestinian state. His chief opponent Herzog says he would support it, and all the other parties have their own differing views. I have to say, Scott, not a lot of optimism on this front."
Reaction
First, Palestinian President Mahmoud Abbas threatened to sever security cooperation with Israel long before Netanyahu vowed there would be no two-state solution if he was reelected. Abbas even went so far as to suggest a Netanyahu win would act as a trigger, publicly stating that a decision won't be made until after the election.
Second, security cooperation between Israel and Egypt is at an all-time high. As long as President Abdel Fattah el-Sisi remains the head of the largest Arab nation, anything less than a Netanyahu-led government will present the potential of reversing at least some of those gains. A Herzog-led government would have caved to the Obama administration on Iran, which would have undoubtedly strain relations between Israel and Cairo, as well as Saudi Arabia and Jordan, all of whom do not want Iran to become a nuclear power.
Ironically, for all of the talk of peaceful negotiations and diplomacy, in reality it is the "bad deal" that threatens inevitable war. If Saudi Arabia, Egypt, and Jordan believe the deal will still allow Iran to secretly or openly develop a nuclear weapon, they will attack Iran.
As far as Petersen's focus on racism, politicians in center-right, right-wing, center-left and centrist parties are all extremely concerned about what the Arab Joint List would do with the classified information opposition parties are privy to receive from Israeli Defense Force officials at briefings. That's just the truth. That sentiment is not isolated to those who agree with Netanyahu.
Finally, unless we missed something over the last 70 years, a two-state peace solution has proven elusive if not impossible, in large part because Palestinians don't accept a two-state solution. Only left-wing apologists do. In fact, Palestinians support and accept the political wing of the radical Islamic terror group Hamas as their elected representatives, and it was Abbas who formed a government coalition in parliament with them.
Considering the Hamas-dominated coalition calls for the destruction of the Israeli state, it is intellectually disingenuous to focus on the governing coalition Bibi Netanyahu will cobble together.
Apparently, the two-state solution, which was once incredibly popular among the Israeli electorate, in reality seems impossible to many of them now, too. So, for now, they voted for a government and a leader that will focus on their survival, and there is nothing the left-wing media can do about it.