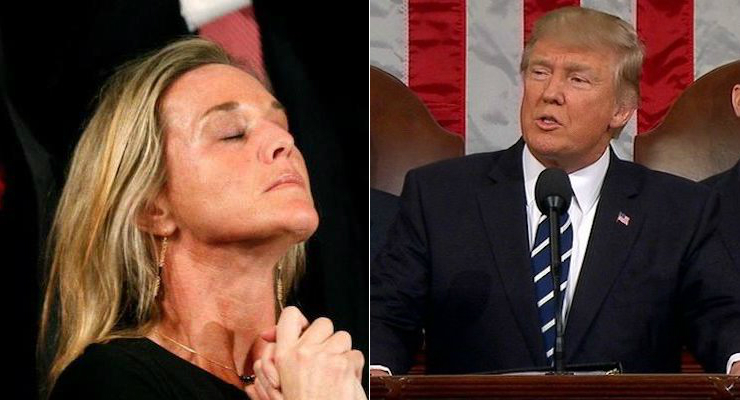 Last weekend, the newly elected Democratic National Committee chairman Tom Perez said the party under his leadership "will represent the resistance," a radical fringe movement. They seek not only to oppose the new administration's agenda but to undermine the will of the American people and undo the November election outcome.
If the American people didn't know just how low the Democratic Party is willing to go to appease their lunatic leftwing base after suffering major electoral disasters, they know after Tuesday night. President Donald J. Trump delivered an optimistic, forward-looking message during what was his best speech to date. In his first address to a joint session of Congress, the president proclaimed a "Renewal of the American Spirit" and called for national unity.
Democrats, at the best of moments, sat on their hands. At the worst of moments, wackos in white shirts made obnoxious noises as they literally gave the president thumbs down.
[social-media-buttons]
When President Trump explained how he directed the U.S. Department of Homeland Security to establish V.O.I.C.E., an advocacy agency for the families of victims' of illegal immigrant crime, members could be heard booing and hissing like snakes. The noises barely ceased as he began to tell the story of Jamiel Shaw II, a 17-year-old African American who played high football and had a bright future before it was stolen by Pedro Espinoza, an illegal immigrant.
On Tuesday night, President Trump called his father, Jamiel Shaw Sr., a close friend and recognized his suffering and sacrifice.
[brid video="118217″ player="2077″ title="Father of teen killed by illegal immigrant on Trump' speech"]
Perhaps the "dreamer" House Minority Leader Nancy Pelosi invited–who, consequently, isn't even impacted by the president's executive action–was offended. In the modern Democratic Party, Rep. Pelosi, D-Calif., decides to bring an irrelevant immigrant to a speech only weeks after being confronted by a mother at a town hall who, like Mr. Shaw, has the audacity to ask why her child was killed by someone who should never have been in the country in the first place.
Let's cut the crap. The deaths of a not-so insignificant number of American children are acceptable to Leader Pelosi and her party so long as they get votes from a permanent underclass.
During the most powerful moment of the speech, President Trump praised fallen Navy SEAL William "Ryan" Owens, who was killed in action during a counterterrorism raid in Yemen.
"Ryan's legacy is etched into eternity," he said, giving recognition to his widow who received a long standing ovation. "The Bible tells us 'There is no greater love than to lay down one's life for one's friends'. Ryan laid down his life for his friends, his country and our freedom. We will never forget Ryan."
[social-media-buttons]
Much to the surprise and disappointment of Sen. Marco Rubio, R-Fla., who turned to look at his colleagues during Mrs. Owen's 2-minute standing ovation, Democrats largely remained in their seats.
And the disgraceful behavior wasn't just confined to Democrats inside the Capitol Building.
Dan Grilo, who boasts on his profile that he has volunteered for both Hillary Clinton and President Barack Obama, called Carryn Owens "an idiot" on Twitter.
"Sorry, Owens' wife, you're not helping yourself or your husband's memory by standing there and clapping like an idiot," he tweeted in a now deleted post. "Trump just used you."
And Pelosi's "dreamer" was in attendance to do what, exactly? Again, her human prop isn't even impacted by the president's executive action on immigration. But that's not really the point. Democrats, with their disgraceful behavior Tuesday night that disrespected not only the president but the people who elected him, are never going to put country first. Their sycophant, little corrupt tools in the media don't actually want unity, as they have claimed for week.
President Trump would be wise to continue to reach out to Sen. Joe Manchin and the few remaining moderate Democrats who haven't yet realized they are in the wrong party, and ignore the minority. At this rate, they'll be even more irrelevent in two years.
[social-media-buttons]