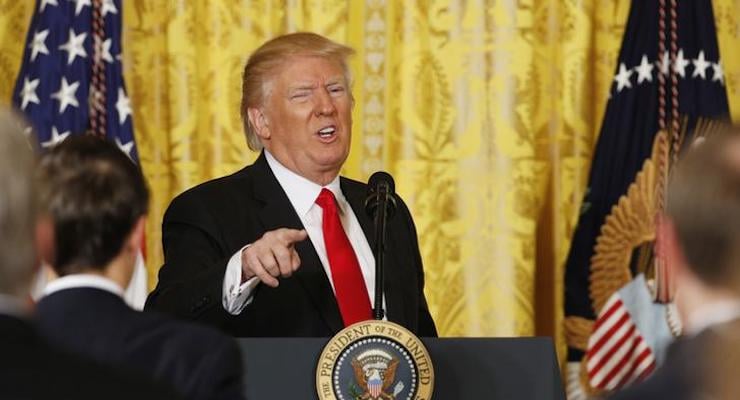 President Donald J. Trump held a press conference Thursday excoriating what has been openly hostile coverage by a media playing the role of an electorally decimated political party. The relationship between the media and individuals occupying offices and walking the hallways of power must be adversarial. But that's not the case here.
Proven political hacks masquerading as journalists are on a search for facts to back up their premature, ideologically-driven conclusions. That's backward America. And on Thursday President Trump again exposed the corruption, pushed back on the bias and explained who is ultimately hurt by what it now an information crisis created by a totally corrupt Fourth Estate.
I'm making this presentation directly to the American people–with the media present, which is an honor to have you this morning–because many of our nation's reporters and folks will not tell you the truth, and will not treat the wonderful people of our country with the respect that they deserve.

Unfortunately, much of the media in Washington, D.C., along with New York, Los Angeles in particular, speaks not for the people, but for the special interests and for those profiting off a very, very obviously broken system. The press has become so dishonest that if we don't talk about, we are doing a tremendous disservice to the American people. Tremendous disservice. We have to talk to find out what's going on, because the press honestly is out of control. The level of dishonesty is out of control.

I ran for president to present the citizens of our country. I am here to change the broken system so it serves their families and their communities well.
Predictably, after being told their bias "is out of control," the mainstream criticism by supposed journalists on CNN, NBC and elsewhere went totally out of control.
Jake Tapper, the flagship hard news anchor at CNN (more on this shortly), said the president was "unhinged." He proceeded to laughably pretend that his outrage was about the president not using the time to talk about U.S. steel workers and other blocs of Americans who overwhelmingly supported President Trump. Let's not forget, the same people Tapper now cares about are the same who he and others in the media showed absolute contempt for during the election.
Chuck Todd, a so-called anchor and political analyst at NBC News, said the president's behavior at the press conference was "un-American." Reuters actually wrote the exact headline–verbatim!–that the president said the media would write in an attempt to twist his words and the perception of his demeanor.
Look! Reuters actually wrote the headline @realDonaldTrump said he they were going to write. Folks, this is just sad https://t.co/VGTuT1CWlu

— Richard Baris (@Peoples_Pundit) February 17, 2017
Let's talk about un-American behavior, and allow us to be perfectly honest.
Jake Tapper and Chuck Todd want to pretend like it is not proven fact that they were caught colluding with the Democratic National Committee and Hillary Clinton to help them defeat Republicans and President Trump. Considering what we know, Tapper has some nerve to pretend to be outraged over Donna Brazile leaking debate questions to the Clinton campaign before he knew he would be the subject of a leak, himself.
As far as CNN as a news organization, both their top "hard news" anchors–Wolf Blitzer and Tapper–played star roles in WikiLeaks revealing flat-out corruption. They no doubt want to pretend it never happened, even having other anchors tell Americans on national television it was "illegal" to read WikiLeaks, but Americans will never consider them credible journalists again.
That's true no matter how many awards other corrupt mediates give them.
It's not just about media bias, or even corruption anymore. The president is absolutely right. They are sowing the seeds of hate and ignorance with no regard to the impact it is having on our national unity. That deserves zero respect and we hope–no, we pray–President Trump does this at least once a week.
Someone has to "treat the wonderful people of our country with the respect that they deserve."