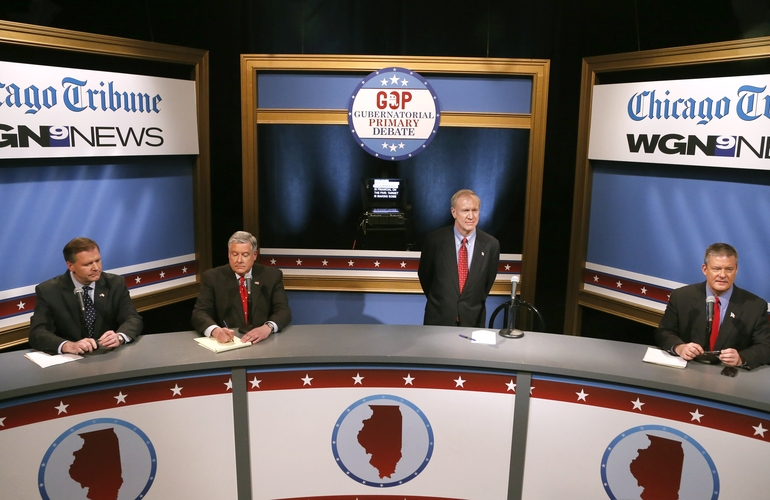 With just over one week to go before Election Day on March 18, when Republican voters will choose their nominee in the Illinois Republican primary for governor, we confidently predict Bruce Rauner will be the "Likely Republican" nominee. If victorious, as we believe he is "likely" to be, the well-funded businessman will go on to face vulnerable incumbent Democrat Gov. Pat Quinn in the 2014 Illinois governor race.
A new Tribune/WGN-TV poll, which we will contrast with We Ask America weekly tracking polls, found Bruce Rauner from Winnetka at 36 percent. Rauner's support represented a slight tick down 4 points measured in their last poll one month ago, amid a TV ad blitz funded by labor unions on behalf of one of his Republican opponents attacking his business record.
Kirk Dillard, a state senator from Hinsdale backed by public employee unions, has benefited to some degree from the union-backed ad buy and has now emerged as the latest alternative to Bruce Rauner. The poll showed Dillard at 23 percent, which is literally double his support since last month's survey. His increase in support was fueled by Downstate voters, but when we take the data in totality, it appears to be the end of the line for Dillard in his attempt to squeeze out more support from the area of the state that also supports Bill Brady.
While previous Illinois Republican primary races for governor have a proven propensity to show last-minute wild swings in the electorate, I view it as unlikely that Kirk Dillard can make up so much ground and pull off an election upset akin to former 2010 Republican nominee Bill Brady. First, the political fundamentals in 2014 differ greatly, but also Dillard's late surge isn't at all corroborated by We Ask America, who conducts weekly tracking for both primaries and general elections for Illinois governor.
In 2010, Kirk Dillard narrowly lost to Bill Brady who was uniquely positioned to benefit from weeks of Andy McKenna-backed ads hitting both Dillard and Jim Ryan, eking out a 193-vote victory. However, because Rauner had the financial support to do so, he has been able to effectively rebut the negative ad campaign against him and proven for several weeks he could stop the bleeding. In fact, unlike the Tribune/WGN-TV poll, We Ask America actually shows him recovering over the past week.
With an irreconcilable difference between the actual margins of support in the polling surveys, we have to identify similarities in the data to learn the rest of the story. Despite showing a tightening race, the Tribune/WGN-TV poll is in agreement on several key findings, several being that voters see Bruce Rauner as the "most electable, knowledgeable and prepared candidate as well as the one displaying the strongest leadership and best equipped to deal with Democratic leaders."
Voters also named Rauner as the candidate showing the strongest leadership by 31 percent, with Dillard and Brady not even able to hit 20 percent.
Further, early on Rauner made the taming of out-of-control unions central to his campaign message, a message that a significant number of union households are even identifying with. The potential loss of support Kirk Dillard was hoping to facilitate among union households was actually pretty minimal. Though nearly 1 in 5 respondents claimed to be from a union household, Dillard earned just 29 percent among Republican households with a union member versus a close 26 percent for Rauner. It's a dip from the 31 percent who supported Rauner in the last poll compared to 25 percent for Brady, but it is not enough.
Apparently, I am not the only one to think so, since labor unions are asking members to pull Republican ballots and vote for Dillard to stop Rauner. Not only are there simply not enough votes to overcome what I see to be a pretty substantial Rauner lead, but if this news circulates widely, as it has begun to do, it is likely to backfire on Dillard.
Without revisiting a hypothetical already noted by the crew at We Ask America, we would just reiterate that it seems to be an insurmountable task to find just over a quarter-million union members willing to do so, particularly with so many breaking traditional ties and supporting Rauner to begin with.
Illinois Republicans want to win in November, and nearly 7 in 10 Republican primary voters said they believe it iss likely that the Republican nominee will win. When asked about electability in the general election, against a vulnerable Democratic Gov. Pat Quinn who is ready to hand Republicans the mansion keys for the first time since 1998, 37 percent said Bruce Rauner. He is trailed by a distant Brady with just 19 percent, while only 17 percent said Dillard and 7 percent for Rutherford.
The bottom line is Bruce Rauner made a wise decision to run an early and sustained TV ad campaign, in which he spoke directly to the voters of Illinois. This no doubt helped to define his character before his opponents could, which is why voters still see Rauner as the candidate most able to identify with regular Illinoisans. When asked, a total of 27 percent said Rauner, while about 1 in 5 listed Brady and Dillard.
What else can I say? The Carhartt sporting vest worked.
View Polling Below, Illinois Governor Race Prediction Or Return To Our 2014 Governor Map Predictions
| Poll | Date | Sample | Rauner | Dillard | Brady | Rutherford | Spread |
| --- | --- | --- | --- | --- | --- | --- | --- |
| PPD Average | 3/1 – 3/5 | — | 38.0 | 18.5 | 15.0 | 8.5 | Rauner +19.5 |
| WeAskAmerica | 3/4 – 3/4 | 1262 LV | 40 | 14 | 12 | 8 | Rauner +26 |
| Chicago Tribune/WGN | 3/1 – 3/5 | 600 LV | 36 | 23 | 18 | 9 | Rauner +13 |
| WeAskAmerica | 2/25 – 2/25 | 1178 LV | 36 | 17 | 13 | 7 | Rauner +19 |
| Chicago Tribune/WGN | 2/5 – 2/8 | 600 LV | 40 | 11 | 20 | 13 | Rauner +20 |
| WeAskAmerica | 11/26 – 11/26 | 1233 LV | 26 | 10 | 18 | 17 | Rauner +8 |
| PPP (D) | 11/22 – 11/25 | 375 RV | 24 | 10 | 17 | 14 | Rauner +7 |