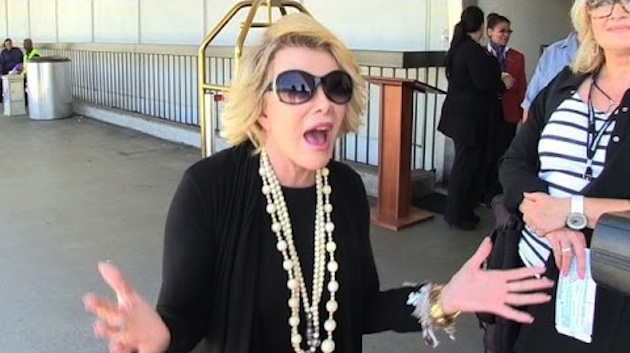 "Let me just tell you: If New Jersey were [blasting] rockets into New York, we would wipe them out," said the legendary comedian Joan Rivers back in July. Rivers died Thursday at the age of 81 after a minor throat procedure sent her into cardiac arrest on Aug. 28.
"Don't put your God-damn weapons in private homes," Rivers said of the attacks on Palestinian civilians. "Your all insane, they started it!"
Rivers was rushed to Mount Sinai Hospital in New York City, where her daughter said she was "comfortable" prior to her death. She was a passionate supporter of Israel, and flat-out annihilated reporters and other celebrities on the issue of the Israeli-Palestinian conflict.
The NYC Medical Examiner's Office confirmed that they will be investigating the cause and manner of Rivers' death. "The death has been reported to us and the Medical Examiner's Office is investigating," a spokesperson said.