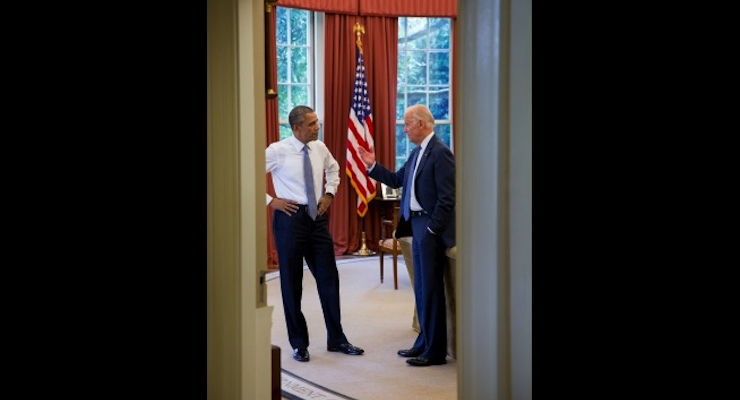 Vice President Joe Biden announced Wednesday that he will not run for the Democratic nomination, ending much speculation over his 2016 plans. Speaking in the Rose Garden with his wife Jill and President Obama on either side, Biden said the window of opportunity to mount "a winning campaign has closed."
"I've concluded that the process (of grieving) has closed," Biden said. "That's where the Bidens are today. "Unfortunately I believe we're out of time, the time necessary to mount a winning campaign for the nomination."
The decision follows months of speculation over his 2016 plans, with pressure building on him from supporters as front-runner Hillary Clinton grappled with slipping poll numbers and a widening scandal over her email use in her capacity as secretary of state.
"I believe President Obama has led us from crisis to recovery and now we are on the cusp of a resurgence," Biden said. "Democrats should not only defend this record, they should run on the record."
Uncle Joe, or Middle Class Joe, as he acknowledged he is often referred to as in D.C., had a strong message for Hillary Clinton during his announcement.
"Republicans are our opposition, they're not our enemy," Biden said in a reference to Clinton's debate comments in Las Vegas, Nevada.
While Biden had been running strong in the polls with Democrats looking for a viable alternative to Hillary, his past runs did not draw very much support. In the 1988 Democratic nomination race, he was sidelined by accusations that he plagiarized a speech by then-British Labour Party leader Neil Kinnock. Other accusations of plagiarism quickly surfaced and he soon withdrew from the race.
Biden also ran for the 2008 nomination, but failed to garner significant support and dropped out in January of 2008 before later being chosen as the vice presidential nominee by then-Sen. Barack Obama.
Further, aside from being a gaffe machine, Biden had a long and controversial record he would've had to defend. For instance, former Defense Secretary Robert Gates, who served under both President George W. Bush and Obama, said in his memoir that Biden was "wrong on nearly every major foreign policy and national security issue over the past four decades."