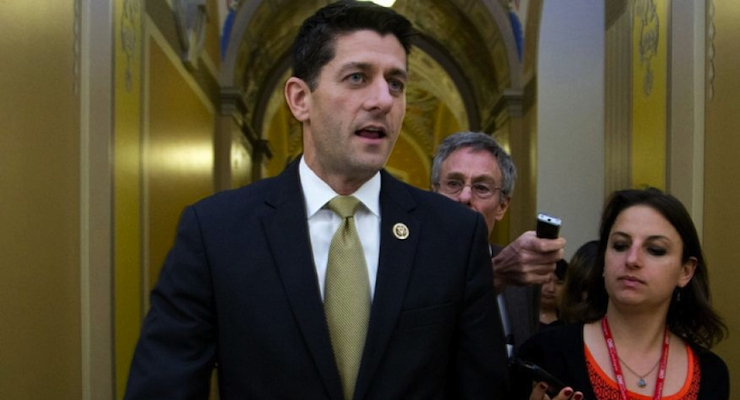 House Ways and Means Committee Chairman Paul Ryan, R-Wis., said on Thursday that he is "ready and eager" in declaring his candidacy for Speaker of the House. Rep. Ryan, the 2012 vice presidential nominee, made the announcement in a "Dear Colleague" letter after he gained support from several critical Republican groups.
In a "Dear Colleague" letter addressed to members of the House Republican Conference, Ryan said he was "ready and eager to be our speaker."
"I never thought I'd be speaker. But I pledged to you that if I could be a unifying figure, then I would serve—I would go all in," he said in the letter. "After talking with so many of you, and hearing your words of encouragement, I believe we are ready to move forward as a one, united team."
The decision marks a stark reversal for Ryan, who quickly made it clear he did not want the job after House Majority Leader Kevin McCarthy, R-Calif., dropped out of the race unexpectedly. However, following the support of the Republican Study Committee and the so-called Tuesday Group, the former of which represents mainstream House Republicans and is over 170 members, said Thursday Ryan is "the right person to lead the House going forward."
The latter group, or Tuesday Group, which is also comprised of moderates, announced they will back Ryan this week, as well. But their support comes after the House Freedom Caucus, which earlier had endorsed Florida Rep. Dan Webster, put out a statement Wednesday saying that the overwhelming majority of its members now support Ryan.
"I think Paul is someone who can unite the party and even see unanimous support," Florida Rep. David Jolly, who initially backed Rep. Webster, told PPD following McCarthy's announcement. Jolly, who refers to himself as a :governing conservative," said Ryan was Republicans' best shot to show a united conference in the upcoming budget battles.
Still, Ryan had laid out several demands as a condition for him running, including rules changes to overhaul what is known as the "motion to vacate the chair" — a parliamentary weapon members can used to oust a speaker.
Ryan also wanted to be able to spend time with his family, and not be on the road as much as previous speakers. House Freedom Caucus members maintain that they haven't agreed to the conditions and that Ryan has agreed to push conservative reforms in welfare, deficit spending and other conservative hot topic issues.
"Paul Ryan has an opportunity to lead House Republicans in a new direction and in fulfilling their promises to the American people to keep spending caps in the year-end budget bill, insist on spending reductions as part of any debt ceiling plan and oppose reauthorization of the Export-Import Bank," Club for Growth President David McIntosh said in a statement. "These steps will go a long way toward restoring pro-growth leadership to Congress. The House Freedom Caucus also correctly insisted that the new leadership restore integrity to the way in which Congress does the peoples' business."