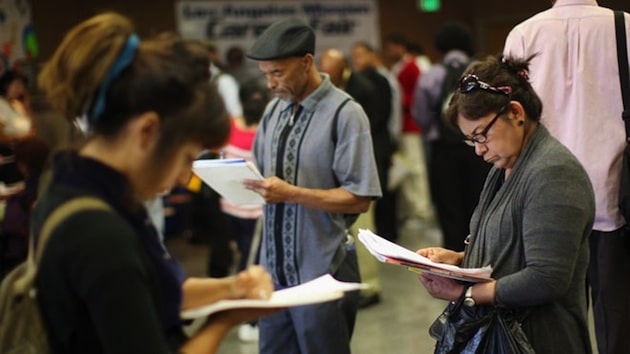 The Department of Labor said Friday that the U.S. economy added 214,000 jobs in October, citing a BLS jobs report missing the expected 231,000-job gain. The headline unemployment number dropped to the lowest level since 2008 — 5.8 percent — driven in large part to a civilian labor force participation rate that has stubbornly remained at 62.8 percent.
In October, 2.2 million persons were marginally attached to the labor force, or persons who were not in the labor force, wanted and were available for work, and had looked for a job sometime in the prior 12 months. However, they were not counted by the government as unemployed, because they had not searched for work in the 4 weeks prior.
Among the marginally attached, there were 770,000 discouraged workers in the month of October, and 7 million persons employed part-time only for economic reasons, which are sometimes referred to as involuntary part-time workers.These individuals, who would have preferred full-time employment, were working part time because their hours had been cut back or because they were unable to find a full-time job.
The 214,000 jobs gained in October represented the ninth consecutive month that the economy has created more than 200,000 jobs, but many economists point to the underlying weaknesses, such as low or no wage growth, shrinking work-weeks, and employment-to-population ratios. With the Federal Reserve looking for growth in hourly wages as they craft a way to implement their announced policy shift away from money-printing and bond-buying, the numbers aren't at all encouraging.
"Although the headline number is decent, the details behind the curtain will be particularly concerning to investors and Main Street," said Todd Schoenberger, Managing Partner of LandColt Capital LP, in New York. "Wage growth is embarrassingly low, especially considering where we are in terms of the so-called economic recovery. And the variety of jobs continues to be a joke. Two-thirds of jobs created in 2014 pay just above minimum wage, whereas less than 50% of jobs created in 2013 were of the low-income variety. Today's weak report validates Tuesday's election outcome as voters remain angry at their economic outlook."
Fed Chair Janet Yellen has repeatedly cited wage growth as a leading indicator for the Fed watching for signs that the labor market is truly strengthening beyond the misleading headline unemployment rate.
"U.S. unemployment fell to a six-year low of 5.8% in October as companies continued to take on staff in impressive numbers. The data add to signs that the economy is enjoying another period of strong growth in the fourth quarter. However, lackluster wage growth takes some of the shine off the improvement in the employment situation, and also acts as a bar to raising interest rates," said Chris Williamson, analyst at research firm Markit.
However, there is a downside to rapid wage growth — inflationary pressure. When wages rise too quickly, then it can lead to runaway inflation and eventually cut into corporate profits. The Fed's shocking announcement they would end quantitative easing led many on Wall Street and beyond to question whether the Fed underestimated the danger of inflation due to their policies aimed at propping up an otherwise weak economy.
As has been the case since the financial crisis, the majority of jobs created were in part-time or low-paying positions.
Food services and drinking places added 42,000 jobs, retail trade rose by 27,000, general merchandise stores added 12,000, while the manufacturing workweek was unchanged again at just 40.8 hours.