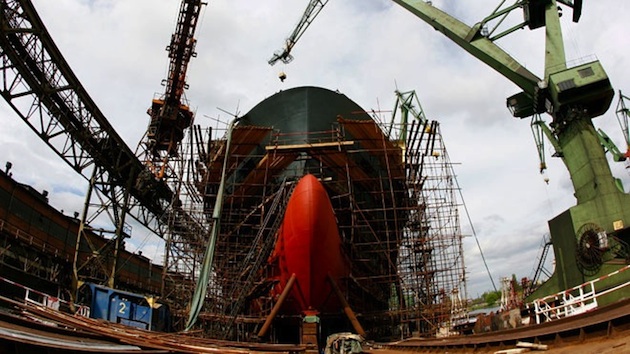 U.S. economic growth slowed sharply in the fourth quarter, as weak business spending and a wider trade deficit offset increased consumer spending. The Commerce Department reported Friday that gross domestic product expanded at a 2.6 percent annual pace in the 4Q following the third quarter's historically normal 5 percent rate.
The slowdown, which follows two back-to-back quarters of very strong growth, comes even as Americans are spending more due to lower gasoline prices. Still, at least at first glance, growth remained above the 2.5 percent pace, though economists had expected the economy to expand at a 3 percent rate in the 4Q.
For all of 2014, the economy grew 2.4 percent compared to 2.2 percent in 2013, an increase but still below the historical post-World War II average. The report came two days after the Federal Reserve's FOMC reiterated its position to hold interest at near historic low, and be said it will be "patient" until economic data suggests a more robust U.S. economy.
The U.S. central bank has kept its short-term interest rate near zero since December 2008, a move that has made the investor class even more wealthy while hurting the saving power and wages of everyday Americans, but most economists expect a mid-year increase sometime in June.
Consumer spending, which accounts for more than two-thirds of U.S. economic activity, increased by a 4.3 percent pace in the fourth quarter, which is the fastest since the first quarter of 2006. That also represented an increase from the third quarter's 3.2 percent pace.
With gasoline prices falling 43 percent since June, Americans are finding themselves with more money to spend. Further, despite zero wage growth, a modestly improving labor market is delivering more opportunity, albeit low-paying opportunity.
However, the increase consumer spending was erased by a drop in capital expenditures, including business spending on equipment falling by 1.9 percent rate. It was the largest contraction since the 2Q of 2009.
Business spending on equipment had experienced an 11 percent growth rate in the 3Q, but last quarter's weakness could indicate cuts or delays in undertaking investment projects by companies in the oil industry has had a more adverse effect than previously forecast.
A wider trade deficit — which was fueled by slower global growth in exports and increased domestic demand for imports — sliced 1.02 percent from GDP growth in the 4Q quarter. In the prior quarter, trade had added 0.78 percentage point to third-quarter growth.
Restocking by businesses to meet growing demand added 0.82 percent to 4Q GDP, but the report from there was a mixed bag. A cut to government spending for defense contractors sliced off GDP, while residential construction added to GDP growth only slightly.
A key measure of inflation fell 0.5 percent, as a result of falling gas prices, which was the weakest reading since the first quarter of 2009.