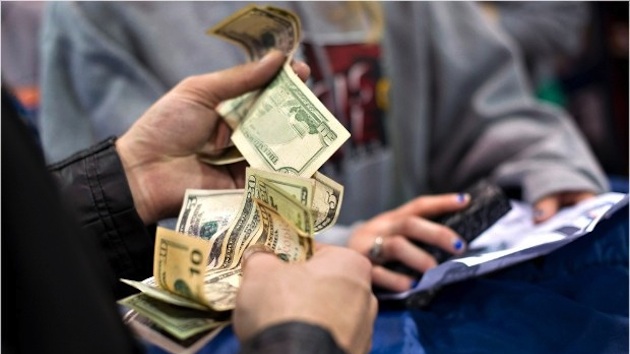 U.S. consumer spending barely rose in February, up 0.1 percent without adjusting for inflation, as household savings hit their highest level in more than two years.
After dropping 0.2 percent in January, the Commerce Department report released Monday is the latest sign that the economy slowed more than previous estimates suggested in the first quarter. Households cut back on purchases of big-ticket items, including automobiles, typical winter spending on utilities saw an increase.
Economists polled by Reuters forecast consumer spending, which accounts for more than two-thirds of U.S. economic activity, to increase 0.2 percent last month. However, when adjusted for inflation, consumer spending actually fell 0.1 percent last month, which is the weakest reading since April of last year.
The U.S. dollar (USDUSD) rose relative to currencies after the data, while prices for U.S. Treasury debt, including the 25-year (NYSEARCA:LBND), fell.
Considering consumption since in the fourth quarter, the latest round of weak consumer spending data may just force economists to further lower their first-quarter growth estimates, which currently range between an abysmal 0.9 and 1.4 percent annualized growth rate. Meanwhile, the government adjusted its data last week to show the economy grew at a 2.2 percent rate in the fourth quarter.
Income rose by just 0.4 percent in February after a similar gain in January, while savings increased to $768.6 billion. That's the highest level since December 2012, up from $728.7 billion in January, bring the saving rate to 5.8 percent, which is also the highest since December 2012 and up from 5.5 percent in January.
Though there was a small increase in prices last month, leading some to suggest the recent disinflationary trend may have run its course, inflation remains well below the Federal Reserve's 2 percent target.
Fed Chair Janet Yellen signaled on Friday that the U.S. central bank would likely start raising interest rates later this year, even with inflation running low. The Fed has held its key short-term interest rate near zero since December 2008.
A price index for consumer spending increased 0.2 percent in February after falling 0.4 percent in January. In the 12 months through February, the personal consumption expenditures (PCE) price index increased 0.3 percent.
Excluding food and energy, prices edged up 0.1 percent after a similar gain in January, while the so-called core PCE price index increased 1.4 percent in the 12 months through February.