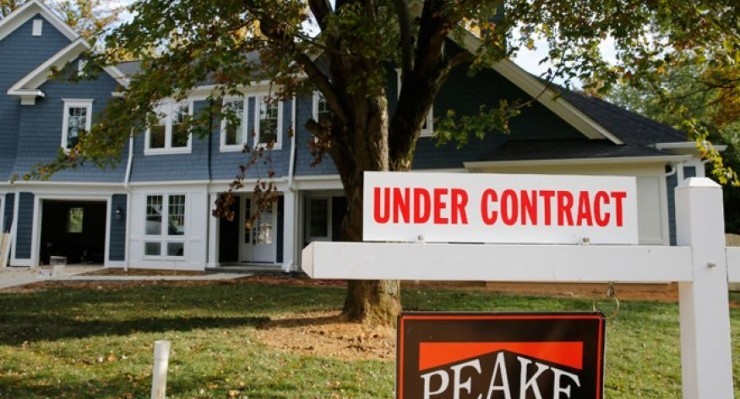 The National Association of Realtors said Thursday its pending home sales index increased 3.4 percent to a seasonally adjusted level of 112.4 in April. The index, which is based on contract signings for purchases of previously owned homes, increased for the fourth straight month from an upwardly revised reading of 108.7 in March to its highest level in 9 years.
Economists surveyed by The Wall Street Journal had expected pending home sales would rise 1% in April. Home sales typically close within a couple months after signing.
The index rose 14 percent in April on a year-over-year basis, which marks the eighth consecutive year-over-year increase. The index is nwo at its highest level since May 2006.
"Realtors are saying foot traffic remains elevated this spring despite limited–and in some cases severe–inventory shortages in many metro areas," said Lawrence Yun, NAR's chief economist. "Homeowners looking to sell this spring appear to be in the driver's seat, as there are more buyers competing for a limited number of homes available for sale. As a result, home prices are up and accelerating in many markets."
Yun also expressed confidence in the housing market in the event the Federal Reserve decides to raise interest rates over the summer. But he did say that the market would need to see a boost in inventory and evidence of moderating price growth.
"The housing market can handle interest rates well above 4 percent as long as inventory improves to slow price growth and underwriting standards ease to normal levels so that qualified buyers — especially first-time buyers — are able to obtain a mortgage," Yun said.
However, for the first time ever since the National Mortgage Risk Index began tracking, the market share of high-risk loans outnumbered the share of low-risk loans. The NMRI for Agency purchase loans came in at a series high in April and the share of high-risk Federal Housing Administration (FHA) loans and the subindex for VA loans also reached series highs.
The co-directors of AEI's International Center for Housing Risk say the housing lobby, the Yun and the NAR, have successfully convinced the government to again inject artificial risk into the marketplace.
"With leverage unconstrained by the Qualified Mortgage regulation, increasing competition between Fannie and FHA, and eventually Freddie, will slowly introduce destabilizing risk nationally," said Edward Pinto, the former chief credit officer for Fannie Mae and co-director of AEI's International Center on Housing Risk. "The goal of the NMRI is to quantify and pinpoint these leverage trends in real time."
In April, Agency loan originations continued on their disturbing trend, migrating from large banks to non-banks. According to the survey's directors, this shift in market share represents much of the upward trend in the composite NMRI. Nonbank lending is substantially riskier than large bank lending it replaces.
"One hears all the time that first-time buyers have limited access to mortgage debt. But this isn't true," said Stephen Oliner, co-director of AEI's International Center on Housing Risk and senior fellow at UCLA's Ziman Center for Real Estate. "Many first-time buyers with low FICO scores and little money down are buying homes every month."
Regional Data
After falling four straight months, the PHSI in the Northeast bounced back solidly (10.1 percent) to 88.3 in April, and is now 9.4 percent above a year ago. In the Midwest the index increased 5.0 percent to 113.0 in April, and is 13.3 percent above April 2014.
Pending home sales in the South rose 2.3 percent to an index of 129.4 in April and are 14.8 percent above last April. The index in the West inched 0.1 percent in April to 103.8, and is 16.4 percent above a year ago.
[brid video="9132″ player="1929″ title="NAR Chief Economist Lawrence Yun on April 2015) Pending Home Sales"]