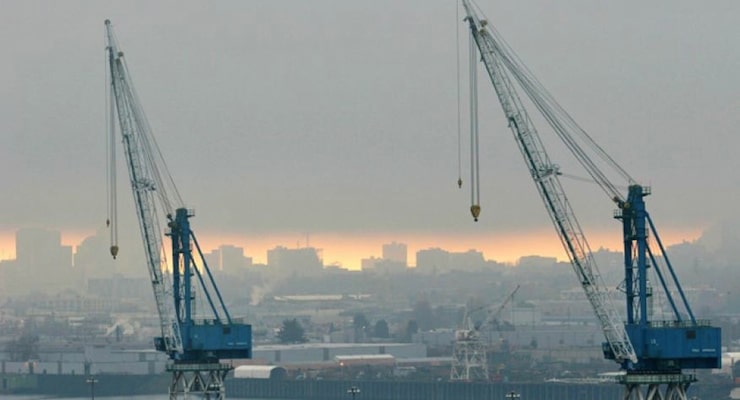 The Commerce Department reported Friday that the U.S. economy contracted in the first quarter as it buckled under a ballooning U.S. trade deficit. As PPD estimated, the government cut its gross domestic product (GDP) estimate to show it shrinking at a 0.7 percent annual rate rather than the 0.2 percent growth pace it previously estimated last month.
A larger trade deficit and a smaller accumulation of inventories by businesses than previously thought accounted for much of the downward revision. There was also a downward revision to consumer spending.
Experts are estimating second quarter growth at roughly 2 percent, which would mean the U.S. economy has given its worst first-half performance since 2011. However, when measured from the income side, which is a far more favorable method used by the government, the economy is shows to have expanded at a 1.4 percent rate in the first quarter.
But, sadly, that's not the reality.
A measure of domestic demand was revised up one-tenth of a percentage point to a 0.8 percent rate and business spending on equipment was stronger than previously estimated. Economists had expected GDP would be revised down to show it contracting at a 0.8 percent pace.
"The economy is clearly shrinking," said Stu Varney, an economic analyst at FOX Business. "It is the trend that is pointing to a recession."
A sharp decline in investment spending in the energy sector — including from companies such as Schlumberger and Halliburton — was not offset by an expected increase in consumer spending due to a plunge in crude oil prices.
Spending on nonresidential structures, which includes oil exploration and well drilling, was revised to show it tumbling at a 20.8 percent rate. The government previously reported a 23.1 pace. Mining exploration, shafts and wells investment also plummeted to a 48.6 percent pace, the largest drop since the second quarter of 2009.
Some will blame the trade deficit explosion on a strong dollar and the ports dispute, the former of the two being valid. The port dispute, which was resolved in March, was not a clear driver of the increase in imports.
That revision to the trade deficit slashed 1.90 percentage points from GDP instead of the 1.25 percentage points initially reported last month.
The GDP report also showed after-tax corporate profits declined 8.7 percent, which is the largest drop in a year and the second quarterly decrease.
Meanwhile, data on retail sales and industrial production have suggested only a modest pace of economic growth early in the second quarter. But reports on housing, consumer confidence and business spending plans have been a bit more positive. Pending home sales hit a 9-year high in April, but for the first time since the survey began tracking, the NMRI found more high-risk than low-risk mortgages were injected into the market.
Consumer spending, which accounts for more than two-thirds of U.S. economic activity, was revised down by 0.1 percent to a 1.8 percent rate.
Inventory in the first quarter was revised to an increase of $95 billion, down from the $110.3 billion increase initially reported last month. That slashed GDP contributions down to 0.33 percent instead of the previously reported 0.74 percent.
Americans, despite lower oil prices, are saving much more than last year. Personal savings increased at a hefty $726.4 billion pace.