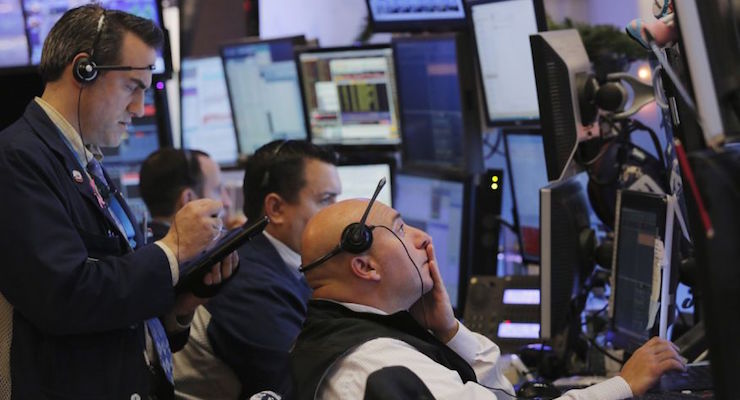 Amid Back-to-Back China Shutdown Sell-Offs, Major Markets Correct
U.S. equity markets ended trading Thursday down sharply amid fears over a back-to-back shutdown selloff rout in China, where obscure data show a slowdown. The Dow Jones Industrial Average (INDEXDJX:.DJI) tumbled 2.32% to 16513. The S&P 500 (INDEXSP:.INX) dropped 47 points, or 2.37% to 1943, while the Nasdaq Composite (INDEXNASDAQ) shed 145 points, tanking 3.03% to 4689.
The last four days have been the worst the Dow Jones Industrial Average has seen in its history. Ironically, Walmart (NYSE:WMT), which lost roughly 25% of its value in 2015, was the only top 20 company on the index in the green by 2.3%, or 1.46 points.
U.S. crude tanked by $32.10 a barrel, which is its lowest level in more than 12 years. Prices actually recovered by mid-morning before they again fell back into negative territory. West Texas Intermediate crude lost 2.06%, falling to $33.27 a barrel, while Brent Crude, the international benchmark, fell 1.40% to $33.75 a barrel.
With commodities posting mixed results, investors traders flocked to safe-haven assets. As a result, Gold prices rose 1.48% to $1,108, the highest level in two months. Gold has now been up for the fifth-straight session. As with commodities, metals were mixed as silver was up 2.57% to $14.08 an ounce, while the China-intertwined and sensitive copper fell 3.16% to $2.02 a pound.
China Leads Near Global Market Collapse
For the second time this week, Chinese equity markets tripped their newly-installed "circuit breaker," a mechanism used to prevent panic selling, just 30 minutes into the start of trade. Regulators rethought the move hours after trading was cut off, deciding to suspend the circuit breaker and not impliment the news system in the upcoming session. However, it has already added to volatility so far this year.
Andy Kapyrin, Regent Atlantic's director of research, said the new decision should help calm things down a bit in global markets.
"It will remove the incentive to rush for the door on a down day," he said. "China created these circuit breakers last year, but the problem is they made them too tight. In the U.S. we only halt trading when stocks fall 20%. In China, they set it at 7%. Having a circuit breaker that's too tight might make a crash more likely because it could make everyone run to an exit, but the door is only so big."
Meanwhile, China is trying to correct currency devaluations and an economic slowdown, the depth of which is not well-known. The renminbi, or yuan, hit a five-month low on Thursday stirring up previous fears from last year from the nation devaluing its currency not once but twice. Without a change, the once Asian tiger neighbors could find incentive to do the same, which could completely destabilize emerging and developing markets.
"Despite gradually gaining access to the IMF's SDR basket, it is clear that Chinese markets are in no state to be called developed, with inexperienced regulatory bodies overseeing unsophisticated investors who seem to be in panic mode," IG market analyst Joshua Mahony said in a statement.
China's Shanghai Composite (INDEXSTOXX:SX5E) index plummeted 7.04%; Hong Kong's Hang Seng fell 3.09%; and Japan's Nikkei bled 2.09%.
"No one knows where this rout will stop and as of yet, Chinese regulators have yet to show they can instill confidence in any other way than to install draconian measures that limit the function of free markets," Mahony added.
In Europe, the Euro Stoxx 50, which tracks large-cap companies in the eurozone, lost 2.30%. Germany's Dax fell by 2.29% and the French CAC 40 declined by 1.72%. The United Kingdom's FTSE 100 lost 1.96%.