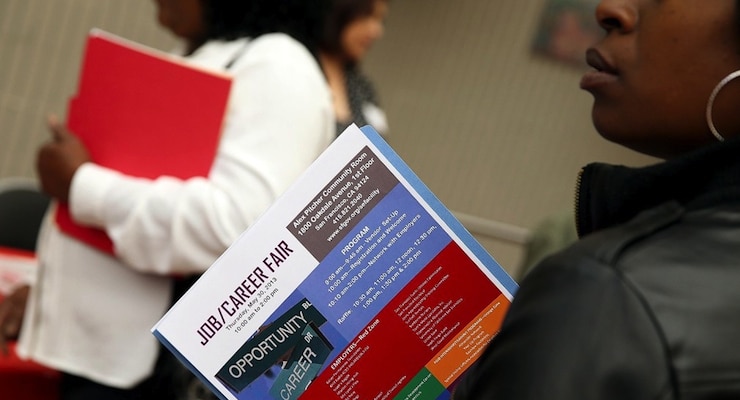 Even With Employment Revised Higher, Wages, Participation and Employment Ratio Lag Behind
The Labor Department's highly-anticipated December jobs report blew past economists' expectation, as the U.S. economy added 292,000 jobs rather than 200,000. The unemployment rate held steady at 5% for the month, as the median forecast expected.
The U.S. labor force participation rate ticked up to 62.6% in December from the near 40-year low of 62.5% the month prior. This is particularly noteworthy considering the weak labor force and flat or falling trends have artificially skewed the headline unemployment number. Still, the less-cited but more important employment-population ratio stood unchanged at just 59.5%, and the smallest number of men ever recorded are currently participating in the labor force.
"Incorporating revisions for October and November, which increased nonfarm payroll employment by 50,000, monthly job gains have averaged 284,000 over the past 3 months," said Erica L. Groshen, Commissioner at the Bureau of Labor Statistics, which conducts the survey for the Labor Department. "In 2015, job growth averaged 221,000 per month, compared with an average of 260,000 per month in 2014."
The unusually warm weather and holiday season definitely contributed to the better-than-expected December jobs report. For example, construction added a whopping 45,000 jobs. Job increases occurred among specialty trade contractors (+29,000) and in construction of buildings (+10,000). Over the year, construction added 263,000 jobs, compared with a gain of 338,000 jobs in 2014.
However, the December jobs report was disappointing on the wages front, which remained essentially unchanged at $25.34 an hour. The Wages were sadly stagnant throughout much of 2015 and in prior years, which has contributed to stubbornly low inflation. Despite strong job creation and a rapidly falling unemployment rate, wages haven't risen accordingly largely because the lower-paying service sector has carried the weaker, higher-paying manufacturing and energy sectors.
Employment in mining continued to decline in December (-8,000) amid overly burdensome government regulations. After adding just 41,000 jobs throughout the entire 2014 year, mining went on to lose 129,000 jobs in 2015, with most of the loss in support activities for mining. Manufacturing employment changed little in December, though its nondurable goods component added 14,000 jobs. In 2015, manufacturing employment was little changed (+30,000), following strong growth in 2014 (+215,000).
The manufacturing sector, which accounts for roughly 12% of the nation's economic output but disproportionately offers higher-wage employment, has essentially been on life support for the majority of the previous year. The Institute for Supply Management (ISM) Report On Business released this week showed the sector opened the year limping along, falling deeper into contraction. The latest durables goods orders survey released prior to the report was flat, though military spending accounted for all of the month's gain and headline figure.
Nevertheless, despite showing a continuation and expansion of the part-time economy, the December jobs report is welcomed news after U.S. equity markets saw their worst start to a year ever recorded in history. The Dow Jones Industrial Average (INDEXDJX:.DJI) closed out it's worst 4-day trading session in history on Thursday amid back-to-back selloffs in China's Shanghai Composite (INDEXSTOXX:SX5E) index. China markets plummeted 7.04% in the previous day of trading, resulting in the complete halting of all trading in the Asian tiger markets.