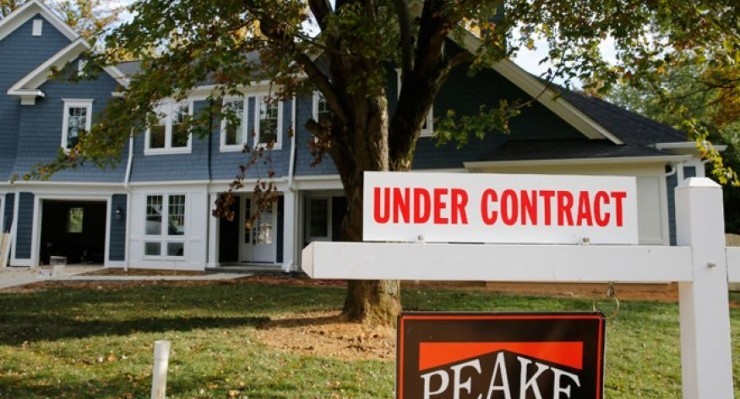 The National Association of Realtors reported on Wednesday total existing home sales fell 3.2% in July to an annualized rate of 5.39 million units. That's down from 5.57 million in June and lower than the median forecast calling for 5.51 million units. For only the second time in the last 21 months, sales are now below (1.6%) what they were a year ago (5.48 million).
"Severely restrained inventory and the tightening grip it's putting on affordability is the primary culprit for the considerable sales slump throughout much of the country last month," Lawrence Yun, NAR chief economist said. "Realtors are reporting diminished buyer traffic because of the scarce number of affordable homes on the market, and the lack of supply is stifling the efforts of many prospective buyers attempting to purchase while mortgage rates hover at historical lows."
The median existing-home price 3 for all housing types and all regions in July was $244,100, a 5.3% gain from the $231,800 in July 2015. July's price increase marks the 53rd consecutive month of year-over-year gains.
Regionally, only the West saw a monthly increase in closings in July and existing homes sales decreased year-over-year for the first time since November 2015. Existing-home sales in the West increased 2.5% to an annual rate of 1.23 million in July, but are still 0.8% below where they were a year ago. The median price in the West was $346,100, marking a 6.4% gain from July 2015.
"Furthermore, with new condo construction barely budging and currently making up only a small sliver of multi-family construction, sales suffered last month as condo buyers faced even stiffer supply constraints than those looking to purchase a single-family home," Mr. Yun added.
Existing-home sales in the South fell 1.8% to an annual rate of 2.22 million and are 1.8% below July 2015. The median price in the South was $214,500, up 6.6% from a year ago. In the Midwest, existing-home sales declined 5.2% to an annual rate of 1.28 million in July, representing little to no changed from a year ago, with a median price of $194,000, up 5.0% on a year-over-year basis. The Northeast tanked 13.2% to an annual rate of 660,000 and are 5.7% below on the year (basis) with a median price iof $284,000. That's 3.3% above July 2015.
Expect the housing lobby to hit K Street and Capitol Hill hard to influence lending standards and ease practices. Realtors® seems to indicate that appraisal complications are appearing more frequently as the reason why a contract signing experienced a delayed settlement, while NAR President Tom Salomone said in addition to affordability, another issue may be reemerging.
"Appraisal-related contract issues have notably risen over the past year and were the root cause of over a quarter of contract delays in the past three months 5," Mr. Salomone, a broker-owner of Real Estate II Inc. in Coral Springs, Florida, said. "This is likely a combination of sharply growing home prices in some areas, the uptick in home sales this year and the strong refinance market overworking the already reduced number of practicing appraisers. Realtors® are carefully monitoring this trend, and some have already indicated they're extending closing dates on contracts to allow extra time to accommodate the possibility of appraisal-related delays."
Distressed sales, or foreclosures and short sales, at 5% of sales in July came in at the lowest since NAR began tracking in October 2008. That's down from 6% in June and 7% on the yearly basis. Four percent (4%) of existing home sales in July were foreclosures and 1% were short sales, the former selling for an average discount of 18% below market value, up from the 11% in discounted rate the month prior. Short sales sold at a discounted 16%, down from the 18% in June.
Single-family and Condo/Co-op Sales
Single-family home sales alone fell 2.0% to a seasonally adjusted annual rate of 4.82 million in July from 4.92 million the month prior and are now 0.8% under the 4.86 million pace a year ago. The median existing single-family home price was $246,000 in July, increasing 5.4% from July 2015.
Existing condominium and co-op sales declined sharply by 12.3% to a seasonally adjusted annual rate of 570,000 units in July, down from 650,000. They  are now 8.1% below what they were in July 2015 (620,000 units). The median existing condo price was $228,400 in July, or 4.1% above a year ago.