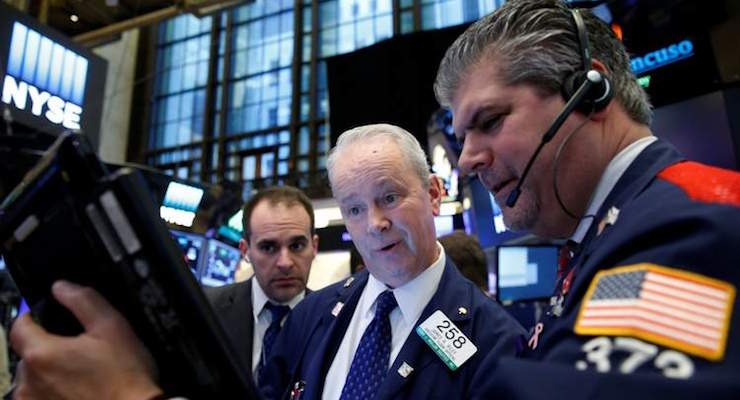 Only one day after Donald J. Trump defeated Wall Street favorite Hillary Clinton for the presidency, markets are going gangbusters. In anticipation of less burdensome regulations and all around economically friendly policies, an uncertainty-fueled decline of 867 points was erased and the Dow Jones Industrial Average (INDEXDJX:.DJI) roared to a new all-time high.
The Dow easily surpassed its previous intraday record high of 18668 at the opening bell, rising 218 points, or 1.18% by the closing bell. The index crushed a closing record of 18636.05, which was set back in August and ended the session at 18807. The development comes only a few hours after leftwing economic Paul Krugman claimed in his New York Times column that the market would never recover from a Trump win, in the unlikely event there was one.
The S&P 500 (INDEXSP:.INX) rose slightly higher on the session, but the Nasdaq Composite (INDEXNASDAQ:.IXIC) turned after 1 hour of trading day when it saw a selloff in technology companies. The tech-heavy index dropped 42 points, or 0.81%, to 5208, though it had been down more than 1% during morning trade.
Worth noting, analysts claim tech giants fell off of worries about protectionism and immigration policies from a Trump administration. However, WikiLeaks showed either the companies themselves or the owners were colluding on some level with the Clinton campaign, including Google (NASDAQ:GOOGL) CEO Eric Schmidt and Facebook (NASDAQ:FB) COO Sheryl Sandberg.
Schmidt was literally using his position and experience to organize the campaign efficiency and Sandberg said she would do "anything" she could to get Mrs. Clinton elected.
Shares of tech giant like Amazon (NASDAQ:AMZN), which closed -29.50 to 742.38, or -3.82%, is owned Jeff Bezos, who took over the alarmingly pro-Clinton Washington Post. Bezos publicly congratulated Mr. Trump on his win, but quietly fears he made the wrong enemy.
While tech shares sold, equities in financials, industrials and health care sectors more than made up for the losses. Several companies hit new all-time highs including JPMorgan Chase (NYSE:JPM)–which posted it's second –straight day of records–PNC Financial Services (NYSE:PNC), and Citizens Financial Group (NYSE:CFG).