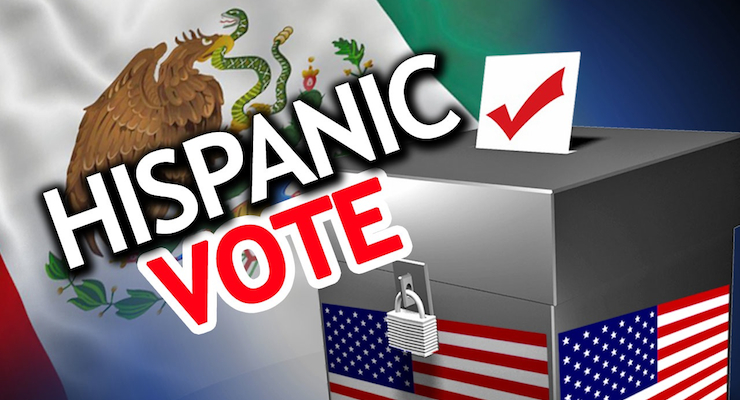 Wednesday night, Fox News anchor Megyn Kelly claimed Mitt Romney could've won the 2012 presidential election if he had won 40% of the Hispanic vote. Though the percentages may change, the general argument remains the same. The Republican National Committee's (RNC) post-election "autopsy" heavily weighted the significance of the Hispanic vote. The brain trust in the GOP Establishment has bought in to this claim to the point that most have supported policy proposals that violate the foundational planks of the party platform, including championing the rule of law, equality under the law and enforcement.
Unfortunately, the premise of the entire argument, which is not only repeated by anchors and pundits on Fox News but on just about every news network, is patently false. Watered down Democratic policy proposals foolishly aimed at "Hispanding" for votes, will not lead to electoral success for Republican candidates. Let's look inside the 2012 Hispanic vote numbers, and put the Hispanic vote myth to bed, once and for all.
When the U.S. Census Bureau released their numbers following the 2012 elections it quickly became clear that–as usual–knee-jerk reactions to exit polls were wrong. Yet, despite what the data sets revealed about the Hispanic vote, the myth persisted and still persists to this very day. Hispanics did increase their raw vote numbers from 9.7 million in 2008 to 11.1 million in 2012, which is a net increase of 1.4 million voters. Howover, the voter turnout rate among Hispanic registered voters, as well as the demographic's share of the overall electorate, actually decreased from 49.9% in 2008 to 48.0% in 2012.
If anything can be ascertained from the data in Fig. 1 it is that the short-term trend supports the observation that there is a decrease in the Hispanic share of the overall electorate. For now, at least, this is due to a number of factors. First, the number of younger voters who make up the increased raw number of new eligible Hispanic voters is disproportional, and younger voter turnout is relatively low juxtaposed to older voter turnout.
So, how did President Barack Obama get re-elected if there was no proportional increase in the Hispanic electorate, as we have been led to believe since Election Day? The answer is black voters–more specifically, older black voters–and even more specifically, older black women. Compared to the 2008 presidential election, roughly 1.7 million additional black voters went to the polls in 2012. Further, about 550,000 additional Asians went to the polls, a now-swing bloc that previously voted Republican by majority. The number of non-Hispanic white voters decreased by about 2 million between 2008 and 2012, but the increased share of black voter turnout helped to reduce their overall share of the electorate in 2012.
Since 1996, this is the one and only example of a race group showing a decrease in net voting from one presidential election to the next. In addition, in 2012, blacks voted at a higher rate (66.2%) than non-Hispanic whites, who voted at a historically low 64.1%. It was the first time since the Census Bureau started publishing voting rates by eligible citizenship population in 1996 that black voters out-voted Whites.
Still, both blacks and whites had voting rates higher than Hispanic and Asian voters, which saw rates of 48% and 47.3% in 2012, respectively. Voting rates for blacks were higher in 2012 than in any recent presidential election, the result of a consistent increase in black voting rates since 1996. While voting rates also increased among Hispanics and Asians across some of the elections addressed in this analysis, these increases were not nearly as consistent as for blacks.
Non-Hispanic white voting rates dropped in both 2008 and 2012, after reaching a high of 67.2% in 2004 when white voters came out en masse to re-elect President George W. Bush. If we remember correctly, the day after his re-election we heard much the same "doomed by demographics" rhetoric from Democrats, lamenting over their losses in the nation's fasting growing exurbs. That said, though the hype over the 2012 Hispanic vote share has proven to be overblown and conventional wisdom proven to be false, the GOP cannot simply ignore a clear trend. By approximately 2040, if current trends continue, whites will be a minority in America.
If, as usual, is a big word. Current trends may very well not continue, as is often the case. Further, whether Hispanic voter participation rates increase enough to make whites a voting minority is another question, altogether. These are uncertainties that parties and pundits often focus far too much on, sadly. The only thing consistent about American political coalitions is that they are consistently temporary and ever-changing.
If the GOP truly wants to construct a solid, winning political coalition on the national level, then they only need to modestly improve their share of the minority vote over time. The tricky part is to do so with a message that doesn't risk alienating crucial voting groups and reversing trends that are 1) too often ignored by the consulting class in the media and, 2) pose a grave and serious threat to the alleged "emerging" and subsequently "enduring" Democratic majority.
Despite their supposed built-in advantage, Democrats nationwide still need roughly 36% to 40% of the white working-class vote to win. In 2014, Democrats won an insufficient 34%, a devastating development under President Obama, who initially enjoyed 40% support in the 2008 presidential election. If Republicans can hold their margins among these voters–forget about increasing it, which is entirely possible–and continue to make gains among middle class voters, then they need only a modest increase in support among minority voters in order to lock up the Electoral College.
When I say middle class voters, we are talking about those who have a college but not postgraduate—degree and have a household income between $50,000 and $100,000. Because there is significant overlap, increased gains among this group are likely to translate into increased gains among minorities, at least to some degree. In my post-2014 Midterm Election analysis, I pointed to the Colorado Senate race to underscore the importance of this voting bloc to the Republican coalition. It is not an accident that I am using Colorado as a repeated reference. Among all the states with a competitive Senate race in 2014, it was the only state where the Hispanic vote share of the electorate was and will remain in 2016 greater than the national average.
Against now-Sen. Cory Gardner, defeated Democrat incumbent Mark Udall bled 7 percentage points among white working-class voters from his 2008 win over Robert Schaffer. Udall lost 8 points among college-educated voters and 11 points among voters making between $50,000 and $100,000. We repeatedly heard the low turnout excuse in the media and from Democrats, but it is just as untrue as the Hispanic myth. Not only did Obama lose 8 points in Colorado among college-educated voters from 2008 to 2012, but Gardner enhanced those gains to the point that he still would've won if he faced the exact same electorate composition. If we apply the 2014 demographic margins in an electorate that mirrors 2012, exactly, then Cory Gardner's margin of victory shrinks by less than a half of point. For comparison, even if Mitt Romney won 70 percent of the Hispanic vote yet did not perform in 2012 as Republicans performed nationwide in 2014, then Obama still would've won the Electoral College, 270 to 268.
Worth noting, Gardner DID NOT run on the promise of amnesty, or even an outwardly pro-immigration reform platform.
Why Team Fox News insists on echoing the false narrative their viewers expect to hear from CNN, NBC, MSNBC, ABC and CBS, is a minor mystery. It could only be for two potential reasons. Either they are impervious to empirical data, or Rupert Murdock and Co. are on the cheap labor train. Viewers should really demand an answer, and consider whether they are really "looking out for the folks."
Regardless, an honest analysis of the data shows demographics alone with not save the Democratic Party, nor will abandoning party principles in favor of "Hispandering" save the Republican Party.