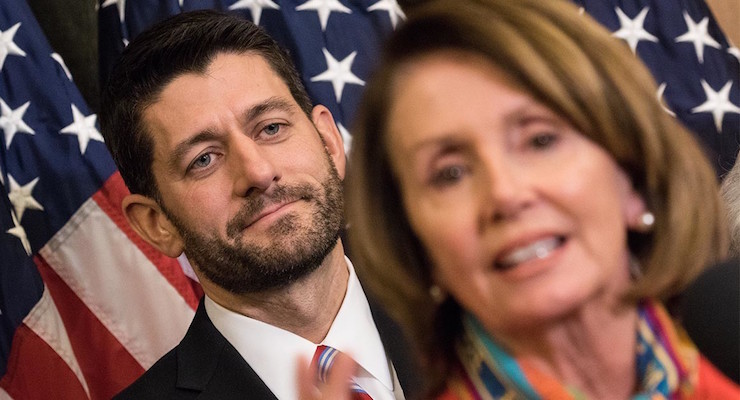 Here we go again. In my first real analysis of the general election for PPD's Election Projection Model, I am forced to waste time on the fantastical idea that Democrats will erase the Republican majority in the House.
Asked after a press conference on Wednesday whether Democrats can retake the House majority, House Democratic leadership was apparently pretty confident. "Of course," Minority Leader Pelosi responded. It's an answer that deserves to be met with–yet has not received–a healthy dose of skepticism.
"I think if the election were today, we could," Pelosi told RealClearPolitics. "It's not today, but we want to keep growing our ground game and getting out our message — mobilization on the ground, messaging in the air — to do that. But I think we have plenty of opportunity now."
Is it possible? Sure. But if the election was held today the Democrats would fall far short of the majority goal. Let's look at the playing field and the argument in support of a Democratic wave.
The Republican Party controls the House of Representatives by a 246 to 188 margin. Republican representatives currently occupy a total of 26 House seats in congressional districts that President Barack Obama carried in 2012. They hold 28 additional seats in congressional districts carried by Gov. Mitt Romney, the 2012 Republican nominee, with less than 53% of the vote (two-party).
That means Democrats would have to carry the vast majority–if not all–of the seats that PPD's Election Projection Model considered "Leans" Obama and, in addition, flip roughly half of the seats that we considered to "Lean" Republican. Party leaders, other well-known, frequently cited "pundits" and forecasters, seem to think this is not only possible but likely.
The basic argument from Democrats–and a few of the same election forecasters with very sad, very recent misfires under their belts–is that Hillary Clinton will trounce Donald Trump in the popular vote and Electoral College. As a result, her coattails will carry down-ballot candidates to victory.
Is there any evidence the political landscape is shaping up to seriously put the Republican majority in jeopardy? Absolutely not. In fact, we heard much the same arguments before the 2014 midterm elections, which I also correctly disputed. Here's what I wrote:
First, despite what advantage in the generic congressional ballot the Democratic Party may have — if any — come Election Day, House districts are drawn in a manner that favor Republicans. Democrats would need a very statistically substantial lead on pre-election generic ballot surveys. In fact, they need a lead somewhere in the neighborhood of 12 to 14 points in order to have any serious chance of gaining the 17 House seats needed for them to regain control of the chamber.
Those estimates were the result of data from all 17 post-World War II midterm election results (now 18). We compared them to generic congressional ballot results and drew average conclusions. Let's put a few general rules on the table and take a look at the historical data now.
Because the generic congressional ballot is a national survey, it often cannot reflect what may be occurring in the political landscape from the battleground regions of the country. When the generic congressional ballot shows a lead of 2 to 5 points in favor of Democrats, it is skewed from the heavily-populated urban, concentrated liberal areas. It obfuscates and understates support for Republican candidates in battleground or conservative-leaning districts.
Until the summer and early fall of the actual election year, the result of the generic ballot survey has little predictive value. Further, the better Republicans are performing on the survey in early September, the more actual seats the Republican Party are likely to gain (or lose), which also overstate Democratic strength in most early predictions.
Historically, Republicans pick up more seats–or lose less seats, depending on the election–on a point-for-point basis. In other words, on average a 10-point advantage for Democrats yields just a 12-seat swing, while an identical lead for Republicans yields a 23-seat swing. Again, these are averages and also include the results of elections when districts weren't drawn in favor of Republicans.
As of now, Democrats hold a statistically insignificant 1-point lead on the PPD average of generic ballot polls. That is among registered voters, during the earlier period when Democrats typically perform better and obviously woefully inadequate to achieve their goal of flipping 59 seats. Worth noting, the Democratic Party will almost always perform better among samples of registered voters than likely voters on the generic ballot, which helps account for the disparity in early polling and polling conducted closer to Labor Day.
For those who think the Trump factor will matter, there is little evidence to support what is truly more than wishful thinking–or, panic for some Republicans. Mrs. Clinton currently leads Mr. Trump on the PPD average by single-digits nationally and the gap is closing fast. In battleground states, where many of the target districts are located, Mr. Trump is either leading Mrs. Clinton or running essentially even. Despite the media narrative, he has already consolidated most of the rank-and-file GOP vote.
How's that for reality? Admittedly, I knew I had to administer a dose at some point, but I didn't expect to have to do it this early. Perhaps that is the real impact of the Trump factor this cycle.