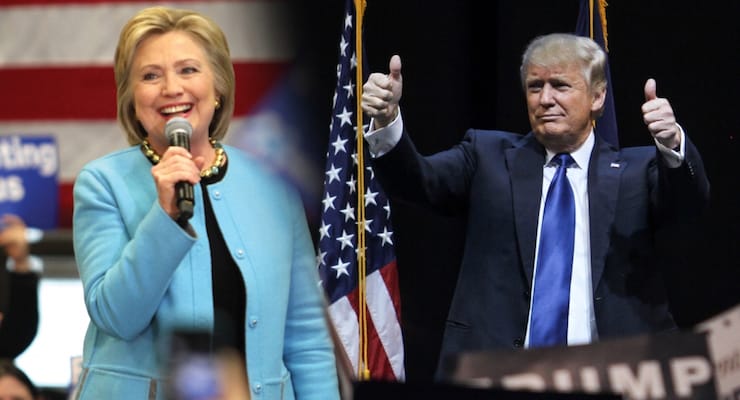 Trump Leads Clinton on Every Major Issue, Outperforming McCain and Romney, But Does Have Weaknesses
Donald Trump, the presumptive Republican nominee, leads Hillary Clinton in the battleground state of Ohio and is statistically tied in Florida and Pennsylvania. A new [content_tooltip id="38038″ title="Quinnipiac University (Q-Poll)"] survey released Tuesday finds Mr. Trump ahead 43% to 39% in the Buckeye State, a state he lost to Ohio Gov. John Kasich with more votes than Mrs. Clinton won it by against Vermont Sen. Bernie Sanders.
In Florida, which serves as Mr. Trump's second home, Mrs. Clinton has a statistically insignificant 1-point lead, 43% to 42%. In Pennsylvania, a state Republicans haven't carried since 1988, the poll finds the exact same margin.
"Six months from Election Day, the presidential races between Hillary Clinton and Donald Trump in the three most crucial states, Florida, Ohio and Pennsylvania, are too close to call," said Peter A. Brown, assistant director of the Quinnipiac Poll. "At this juncture, Trump is doing better in Pennsylvania than the GOP nominees in 2008 and 2012. And the two candidates are about where their party predecessors were at this point in Ohio and Florida."
i

Ohio

Mr. Trump would do a better job than Mrs. Clinton handling the economy by a 52% to 40%. He also leads on who would be better on terrorism, 48% to 43%, according to the poll. Independent voters break 40% for the presumptive Republican nominee and 37% for his likely Democratic rival.

The gender and racial gaps are wider than usual in Ohio, where Mr. Trump holds a 4-point lead over Mrs. Clinton. He carries men by a whopping 51% to 36%, while she only leads among women 43% to 36%. White voters go for the Republican candidate 49% to 32%, a margin that is all but certain to increase based on prior patterns, but non-white voters vote are only back the Democratic candidate 76% to 14%.

Mr. Trump is actually more well-liked than the former secretary of state, where Mrs. Clinton gets a negative 34/62 favorability, compared to Trump's 36/57.

"Ohioans oppose 'The Wall' 52 – 45 percent, while they are overwhelmingly in favor of requiring a photo ID for anyone wanting to vote," Brown said. "They are happy with the economy and satisfied with the way things are going in the state – all of which is a nice testament to Gov. John Kasich, who dropped out of the White House race last week, but might be back as Trump's running mate."
I

Florida

Voters in the Sunshine State say by a 54% to 40% margin that Mr. Trump would do a better job than Mrs. Clinton handling the economy, and prefer him by 49% to 43% on who would be better on terrorism.
l

Pennsylvania

Pennsylvania voters say by a 51% to 42% margin that Mr. Trump would do a better job than Mrs. Clinton handling the economy, while they are divided on who best would handle terrorism–47% for Mr. Trump and 46% for Mrs. Clinton.

Until now, PPD's senior political analyst Richard Baris has been a lone voice in the wilderness in agreement with The Donald on the Keystone State. In this cycle, we have witnessed one of the most significant shifts in partisan allegiance ever. This year alone, 61,500 Democrats have switched over to Republican registration and there has been a 145,000 jump in Republican registrations since the fall 2015 election.

"That's more new Republicans than in the previous four years combined," Mr. Baris said. "We typically view any generic GOP presidential candidate entering the state with a deficit of at least 200,000 votes. Not Donald Trump. The trend in those numbers has exploded with his candidacy and the primary vote indicated the typical rules in the state don't apply to him."
Overall
While the survey is undoubtably good news for Mr. Trump, there are weaknesses.
"By wide margins, voters in all three states say Clinton is more intelligent than Trump and by smaller margins, voters in all three states say she has higher moral standards," Mr. Brown noted.
Voters question his temperament in each of the states polled and believe she is better equipped, at least now. Further, he is seen as less intelligent, despite his accomplishments. His demeanor during the primary no doubt contributed to this, and it is something he will have to work on considering Republicans need at least two of the three states to win the White House.
"This election may be good for divorce lawyers. The gender gap is massive and currently benefits Trump," Mr. Brown added. "In Pennsylvania, Clinton's 19-point lead among women matches Trump's 21-point margin among men. In Ohio, she is up 7 points among women but down 15 points with men. In Florida she is up 13 points among women but down 13 points among men."
Worth noting, Sen. Sanders performs far better against Mr. Trump than Mrs. Clinton, though only in Pennsylvania does that disparity have any statistical significance. Sen. Sanders gets 43% to Mr. Trump's 41% in Ohio; 44% to 42% in Florida; and, 47% to 41% in Pennsylvania.
Based upon polling, it would appear Sen. Sanders is headed for another win on Tuesday in West Virginia, making the Mountain State his second straight win after Indiana. Nevertheless, particularly when factoring in superdelegates, Mrs. Clinton's dominance in the South and among minority voters has resulted in a large delegate lead.
On the Republican side, Mr. Trump is set to easily stomp his rivals, both of whom have suspended their campaign. He leads on the average of polls by double-digits and received the first coal miners endorsement for a Republican candidate in the state since Ronald Reagan. He remains on track delegate-wise to sow up the nomination.
"The most noteworthy findings in these polls is that rank-and-file Republican voters have already and largely coalesced behind Donald Trump," Baris added. "The media obviously obfuscates division among party leaders with actual Republican voters. Talking conservative heads on cable and network news just don't represent the electorate. Shocker."