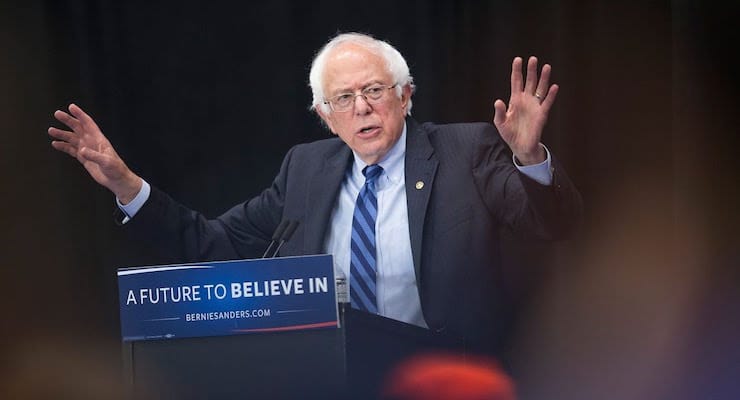 Vermont socialist Sen. Bernie Sanders defeated Hillary Clinton in the West Virginia Democratic Primary by double-digits, but the superdelegates don't seem to care. With 96% of precincts reporting, Sen. Sanders crushed Mrs. Clinton 51.4% to 36%. The result, which were significantly underestimated by the polling average, stands in stark contrast from her performance in 2008. Mrs. Clinton clobbered then-Sen. Barack Obama 67.0% to 25.7% and took 20 of the state's delegates to his 8.
Yet, Mrs. Clinton remains the disproportional choice for superdelegates in the state, a list of most West Virginia Democratic political leaders who cast an independent ballot at the Democratic National Convention in Philadelphia, despite the statewide vote. Speaking of which, exit polls show that the vast majority of Democratic primary voters say they want the next president to moderate policy, or put another way, pursue policy less liberal than Obama's policies. That's how badly they view Mrs. Clinton.
In total, West Virginia has 37 delegates to the convention, with 29 of those awarded based on the results of the Tuesday presidential primary. The remaining eight superdelegates are simply not bound by the will of the voters. PPD has reached out to these people and those who have responded indicated they are not changing their minds. Six are supporting Clinton, barring some unforeseen and highly unlikely circumstances. Regan is supporting Sanders. Harris has not publicly announced her support and did not respond to several phone and email messages.
Six of The Mountain State's eight super delegates are still supporting the former secretary of state, who also has a big national lead among superdelegates. While she leads in pledged delegates, as well, it is not really as significant and largely the result of her strength in the South where electorates have more minority voters. However, these are also states that are going to vote for the Republican presumptive nominee, Donald Trump, regardless of what some polls indicate.
Who are they?
West Virginia Democratic Superdelegates: Gov. Earl Ray Tomblin, Sen. Joe Manchin, party chairwoman Belinda Biafore, vice-chairman Chris Regan, Secretary of State Natalie Tennant, state Treasurer John Perdue, Charleston lawyer Pat Maroney, and Elaine Harris, a union leader for the Communications Workers of America.