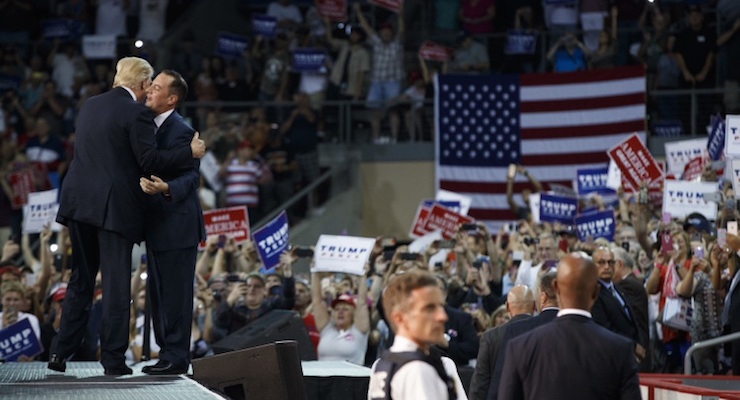 What the Trump campaign's ground game is lacking in size juxtaposed to the Clinton campaign, it might be making up for in sophistication and coordination. The Republican National Committee (RNC) and state party organizations are "working hand in glove" with the Trump campaign to post big voter registration gains in key battleground states.
After completely revamping their GOTV, or get out the vote, which was in large part responsible for the GOP wave in the 2014 midterm elections, the RNC has been been capitalizing on something Democrats have been lacking–huge turnout at Trump rallies.
"Our ground game is working hand in glove with the Trump campaign to complement their operation," RNC Political Director Chris Carr said on a conference call. "The RNC is doing most of the heavy lifting for the Trump campaign to get voters to the polls this year."
Director Carr said the ability to capitalize on voter enthusiasm and the resulting registration gains are attributable to RNC Chairman Reince Priebus's decision to start building "a completely new field organization back in 2013." In 2012, GOP nominee Mitt Romney was soundly defeated on the ground by President Barack Obama in the battleground states.
"For several years the RNC has been building a national, permanent ground game, and keeping organizers in key states working to engage, register, and turn out voters while building our data file," he said. "The fact that the GOP has been in the field permanently for years means we have had a tremendous head start on the Clinton campaign and are still in the lead. "Before Clinton had staff focused on the general election, the RNC's staff, organizers, and volunteers had tallied well over 1.2 million hours of organizing. That's the equivalent to 50,000 days, or 137 years of organizing."
In Florida, a must-win state for Mr. Trump, Republicans have put in nearly 335,000 more requests for absentee ballots this year than they did in 2012. At the time of the conference call, Republicans held a sizeable lead with 84,435 absentee ballot request advantage over the Democrats. That lead has grown to 87,597 as of Saturday. Overall, the RNC has seen a net gain of 261,715 in voter registration in a state Gov. Romney lost by roughly 70,000 votes.
In Iowa, a state Mr. Obama won by 6 points and where Democrats traditionally top Republicans, the GOP outpaced their rivals by nearly 5,000 ballots on Wednesday. While they still trail overall, it's now a clear trend that Democrats are underperforming among absentee ballots requested juxtaposed to 2012. The Hawkeye State, where Mr. Trump still holds a sizable lead in the average of polls, is one of three where Republicans out registered Democrats during the month of September, along with Pennsylvania and New Mexico.
"Democrat requests are 51% smaller than at this time in 2012," Mr. Carr said.
The RNC has also managed to turn the tide in Michigan. Based on RNC Data, Republicans have now built a 59,000 absentee ballot request margin, outpacing Democrat daily requests by an average of 1,642 per day for the past two weeks in the Wolverine State and a reversal in the trend from the previous two weeks where Democrats were leading.
2012 v. 2016 Voter Registration
Florida Net:  +261,715
Iowa Net:  +38,913
Nevada Net:  +12,720
North Carolina Net:  +173,785
Pennsylvania Net:  +223,552
North Carolina and Pennsylvania now make up the Clinton campaign's new firewall, the former being one of only two states Gov. Romney managed to flip in 2012. But Republicans out-requested Democrats by a margin of 1,902 during the final 3 days ending the week, which increased their overall advantage in the Tar Heel State.
In Pennsylvania, Republicans have gained ground in 11 of the past 14 days to tear further into the Democratic advantage. It is now less than 1,000 in the Keystone State, in which Mr. Trump runs ahead of prior nominees and has made a major play. No Republican has carried the state since 1988. In September alone, Republicans added nearly 30,000 new voters to the roles.
Mr. Carr also touted another new asset the RNC launched for voter registration–the website vote.gop–in-house, "one stop shop website" where voters get all the information they need to register, request an absentee ballot or commit to vote. The site and technology allows the party to track what steps potential registrants have taken to vote, something they believe gives them an advantage.
"We have a great advantage over the Democrats' equivalent website," he said. "The Dems' website redirects users to various state portals to complete their registration. Ours keeps everything in house and we can be of much greater help to the user and establishes stronger 'chase universes.'"
In the world of digital big data, chase universe is a fancy way of characterizing their ability to follow up with users.
"Ultimately we are going to keep our foot on the gas and continue our work of engaging voters, building relationships with them, registering them to vote, and making sure they come out to vote Republican up and down the ticket on November 8th," he added.