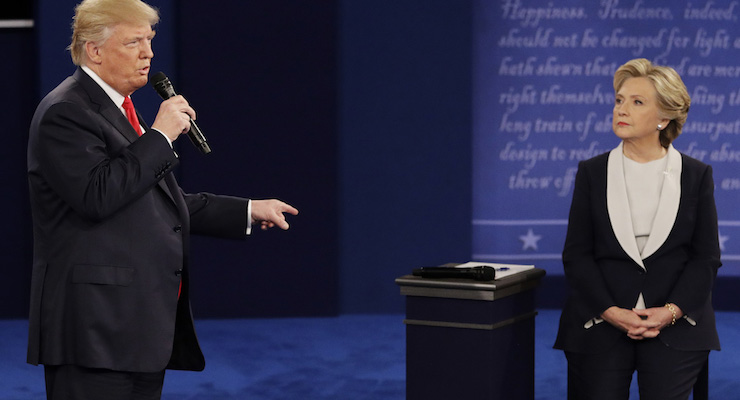 With his campaign on life support, an aggressive, composed and prepared Donald Trump went on the offense against Hillary Clinton in the second presidential debate. Mr. Trump and his supporters needed a big debate win in St. Louis Sunday night to to stabilize his campaign after the release of a decade-old tape from 2005 revealing he made lewd comments about women.
"I'm very embarrassed by it, I hate it – but it's locker-room talk," Mr. Trump said. "I have great respect for women."
After apologizing to his family and the county, he pivoted and turned his attack against Mrs. Clinton's honesty and character in an unprecedented manner, accusing her of lying about her email scandal, saying she would be "in jail" if he were president and the law was upheld and only brought up her husband's allegations of rape when she pressed the issue. The former secretary of state responded by claiming the vulgar comments on the tape revealed who he truly was, while accusing him of trying to create a "diversion" from his "exploding" campaign with his debate-stage attacks.
A clearly frazzled Mrs. Clinton was thrown off by the presence of four women, three of which have accused former President Bill Clinton of rape and Mrs. Clinton of threatening them after the assult. Kathy Shelton, the fourth woman at the debate, was a rape victim who, when 12 years-old, was "put through the ringer" by Mrs. Clinton who shamed her while defending her client, whom she got off. Mr. Trump said his own comments pale in comparison to her husband's alleged abuse of women and her treatment of them.
"She should be ashamed of herself," the Republican nominee said. "If you look at Bill Clinton, far worse – mine are words. His was action," Mr. Trump added. "Bill Clinton was abusive to women. Hillary Clinton attacked those same women and attacked them viciously."
But the Republican nominee pivoted and clearly wanted to move the conversation to policy, scoring points on quick comeback remarks and humor. He hammered away at the latest controversies surrounding his Mrs. Clinton, including the leak of thousands of emails from Clinton campaign chairman John Podesta, particularly relating to Mrs. Clinton's Wall Street speeches. In one passage, Clinton discussed the need to have both a "public and private position" on issues and, in yet another, her dream being for "open borders" and "open trade."
Mrs. Clinton attempted to defend the former by saying she was referring to how President Abraham Lincoln had carefully negotiated with individual lawmakers in Congress during his push for the Thirteenth Amendment in his presidency.
Mr. Trump fired back.
"So ridiculous. Look, she lied, got caught lying and now she's blaming the lie on the late great Abraham Lincoln," he said. "Honest Abe never lied, that's the difference between Abraham Lincoln and you."
The historically contentious debate ended with a final question by an audience member who asked: "Would either of you name one positive thing that you respect in one another?"
The man's question drew an applause and laughter from the crowd attending the debate at Washington University.
"Well, I certainly will, because I think that's a very fair and important question," Mrs. Clinton responded. "Look I respect his children. His children are incredibly able and devoted and I think that says a lot about Donald. I don't agree with nearly anything else he says or does, but I do respect that. And I think that is something that as a mother and a grandmother is very important to me."
Trump's response?
"I consider her statement about my children to be a very nice compliment," Mr. Trump said in return. "I don't know if it was meant to be a compliment, but I'm very proud of my children, and they've done a wonderful job and they've been wonderful, wonderful kids, so I consider that a compliment. I will say this about Hillary: She doesn't quit. She doesn't give up. I respect that. I tell it like it is. She's a fighter, I disagree with much of what she's fighting for, I do disagree with her judgment in many cases, but she does fight hard and she doesn't quit and she doesn't give up and I consider that to be a very good trait."
[brid video="68200″ player="2077″ title="Watch Live The 2nd Presidential Debate"]