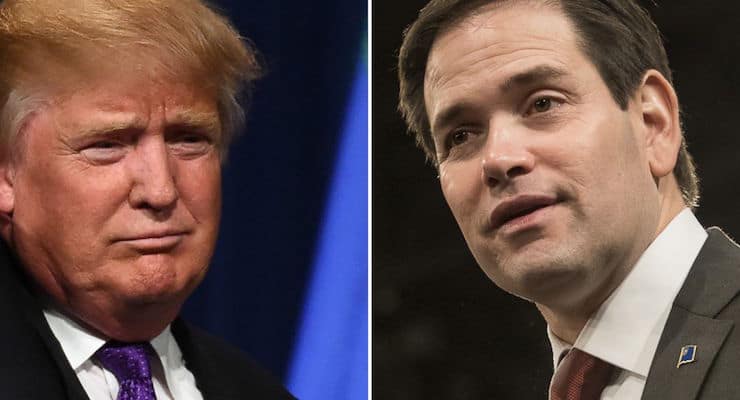 Florida Sen. Marco Rubio said Tuesday Hillary Clinton is still the more unacceptable choice for president and he's standing by GOP nominee Donald Trump. The first-term senator will not revoke his endorsement, despite the presidential candidate's lewd comments about women revealed in a 2005 video with Bill Bush, then of "Access Hollywood."
"I ran against Donald Trump. And while I respect that voters chose him as the GOP nominee, I have never hesitated to oppose his policies I disagree with," Sen. Rubio said in a statement. "And I have consistently rejected his offensive rhetoric and behavior. I disagree with him on many things, but I disagree with his opponent on virtually everything.
"I wish we had better choices for President. But I do not want Hillary Clinton to be our next President. And therefore my position has not changed."
Sen. Rubio denounced the language on the tape Friday after its publication in The Washington Post, a Clinton-friendly outlet bent on destroying the New York businessman. He called the remarks used by Trump "impossible to justify," but unlike other politicians, at least waited until the debate on Sunday to make a public statement.
Richard D. Baris, the senior political analyst at People's Pundit Daily, has been profiling and polling the Trump voter since the summer. He said that there is more upside than downside potential for Sen. Rubio and other down-ballot candidates to stand with the nominee after the tape.
"Trump voters are big picture voters," he said. "They will punish lawmakers and governors who cut tail and run against someone they see as an existential threat to the economy, national security and fair governance. To Trump voters, regardless of the tape, it's a choice between crude or corrupt. That's an easy choice."
During the debate on Sunday, Mr. Trump said he was "embarrassed" and apologized his family and the country for what he labeled "locker-room talk." While the media has tried to characterize the remarks as proof of sexual assault, he maintained he'd never acted on his words unlike Mrs. Clinton's husband and former president, both of whom were rattled by the presence of four women. Three had accused Bill Clinton of sexual assault and/or misconduct, Mrs. Clinton of smearing and intimidating them. The final was raped as a 12-year-old and says "Hillary put me through what no 12-year-old should ever have to go through."
Mrs. Clinton defended the rapist involved in the case, whom she claimed on a leaked audio she suspected was guilty, but smeared the victim as a promiscuous young lady looking for a older man's attention.
Democratic Rep. Patrick Murphy, who has come under fire after being caught repeatedly lying about his professional career during the campaign, spent the weekend demanding that Sen. Rubio pull his endorsement from Mr. Trump, accusing him of "cowardice."