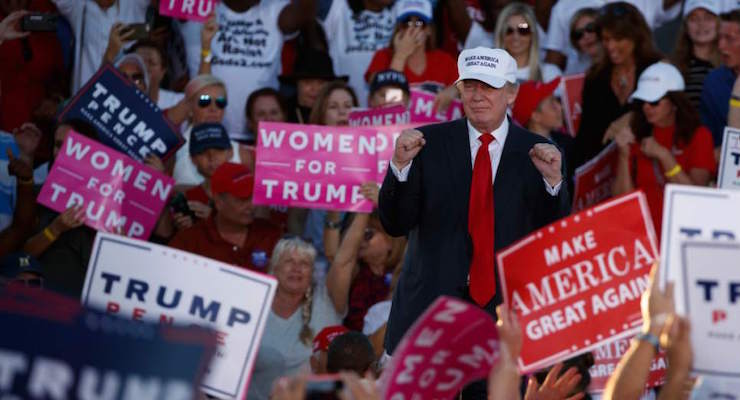 Early voting begins in Florida on Monday, and Republican presidential candidate Donald Trump is barnstorming the must-win battleground state with multiple events. Trump will hold rallies in Tallahassee, Sanford and Tampa.
On Sunday at a rally in Naples, Trump continued to pitch his new "Contract with the American Voter" that promises to "drain the swamp" of corruption in Washington D.C. He unveiled his closing argument on Saturday in Gettysburg, Pennsylvania, which outlined his first 100 days in office.
"Hillary Clinton isn't running against me," Trump said. "She is running against change. She is running against you, the American people."
Republicans currently hold a 2-point lead and polling indicates Trump leads among those who already cast a ballot by nearly double that margin. According to the latest official tally, among those who voted by mail Republicans lead by roughly 2 points, 502,901 to 482,361.
"Early voting numbers are tricky to compare from the previous two cycles because of changes to the law and who receives ballots by mail and absentee," says R. D. Baris, PPD's senior political editor who not only predicted Gov. Rick Scott would win reelection, but within 5,000 votes. "You have to look at where these ballots are coming back from and where you can see those efforts have been energized."
According to People's Pundit Daily's Sunshine State tracking poll, Trump currently holds a 1-point lead over Hillary Clinton. While other public polls have shown a 3 to 4 point lead for the former secretary of state, the Democratic Party simply don't have as large a pool to draw from as they did in 2008 and 2012. When President Barack Obama ran for reelection, Democrats held a 4,821,859 to 4,263,587 advantage over the GOP.
That's now fallen to 4,800,905 to 4,500,960. As of Monday, there were 3,353,421 voters not affiliated with either major political party in the state Mitt Romney lost by just 70,000 votes.
"It's not an accident that Trump will visit Hillsborough County on Monday, which is home to many of those independent voters," Baris said. "Gov. Romney lost that swing-to-Democrat leaning county to President Obama by roughly 7 points and he is running about even there with Mrs. Clinton. In the I-4 corridor, which is another once-swing region of the state that is moving toward leaning Democrat, the Republican is running a few points ahead of his rival."
Still, Baris says Democrats close strong in the final weeks of a campaign in Florida, which is why they requested a federal judge to push back the deadline to register to vote. They won that legal fight and lost another after they filed a request asking judge to allow absentee ballots to get cast without verifying voter eligibility and identification.