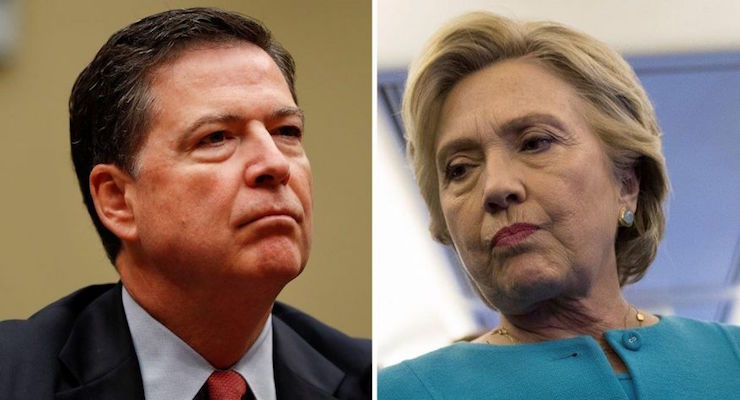 Following her defeat to President-Elect Donald J. Trump, Hillary Clinton and her campaign assigned blame to everyone except the former secretary of state. On Saturday, during a call with top donors and supporters, Mrs. Clinton herself blamed FBI Director James Comey and a letter obtained by People's Pundit Daily blames multiple sources for the failure, including sexism.
On the call over the weekend, Mrs. Clinton claimed Director Comey's last letter to Congress, which astonishingly claimed the FBI reviewed more than 600,000 documents in 8 days and cleared her of wrongdoing, hurt her more than the first that alerted lawmakers to the discovery of new evidence. Multiple sources tell PPD that at no time did she concede the decision to setup a server in her home and mishandle classified information contributed to Americans' decisions at the ballot box.
Mrs. Clinton was completely convinced that she only lost the campaign in the final week, a claim The People's Pundit disputes vigorously.
"In our national poll, which turned out to be the most accurate, Mrs. Clinton trailed Mr. Trump more than he trailed her since July," says PPD's polling head Rich Baris, the People's Pundit. "We did see significant movement to Mr. Trump in the closing days, but there were more structural and fundamental deficits baked in the electorate cake way before the second Comey letter was reported."
But reading an internal campaign post-mortem letter by Navin Nayak, head of opinion research at the Clinton campaign, which was emailed to staffers on Thursday, reveals there's little doubt Mrs. Clinton's internal circle is in a bubble.
"We believe that we lost this election in the last week. Comey's letter in the last 11 days of the election both helped depress our turnout and also drove away some of our critical support among college-educated white voters—particularly in the suburbs," she stated in the letter. "We also think Comey's 2nd letter, which was intended to absolve Sec. Clinton, actually helped to bolster Trump's turnout."
The PPD U.S. Presidential Election Daily Tracking Poll did find Mr. Trump with a deficit among suburban white women, particularly those with a college-degree. It just wasn't nearly as severe as Big Media pollsters suggested. Mr. Trump's challenge, which Baris repeated during radio interviews over-and-over, was always whether he could hold on to GOP and GOP-leaning suburban voters while adding a new working class coalition.
In the end, he did and that's what ultimately decided both the outcome of the election and Mrs. Clinton's fate.
"Democrats certainly didn't help themselves by nominating a flawed, untrustworthy candidate under two criminal FBI probes. But sexism had nothing to do with it," Baris added. "For the most part, voters make rational policy choices at the ballot box and Mr. Trump's populist platform appealed to voters–both minority and white –who are typically counted among her party's base. That's how he broke the Blue Wall, along with strong enthusiasm and support from independents."
But according to Mrs. Clinton and Nayak, it was the "unprecedented task of electing the first woman to the highest office in the land (code for sexism)" and Mr. Comey's letter that "likely helped to depress turnout among Hillary's supporters" and "energized Trump supporters."
They even blamed "Global forces" for "driving deep-seated anger at institutions," rather than the economic impact of globalization.
"There is no question that a week from Election Day, Sec. Clinton was poised for a historic win," Nayak wrote.
Hogwash, says Baris, citing the PPD Poll that consistently showed enthusiasm for Mr. Trump was always higher than it was for Mrs. Clinton. It is natural for enthusiasm in the electorate to increase as Election Day nears, but she always ran a deficit in this area.
"They are still citing now-debunked exit poll numbers and false early vote claims to cover up what they don't want to admit," he added. "Donald Trump gave voters a reason to vote for him. Hillary Clinton did not. End of story."
[pdfviewer width="740px" height="849px" beta="true/false"]https://www.peoplespunditdaily.com/wp-content/uploads/2016/11/Clinton-Campaign-Post-Mortem-Letter.pdf[/pdfviewer]