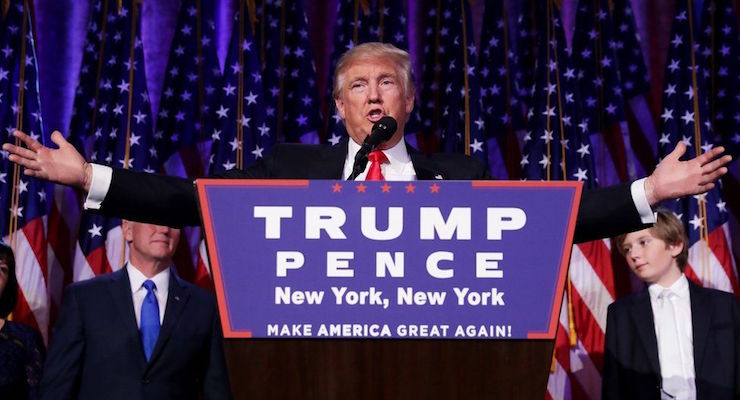 The USC Dornsife/LA Times Presidential Election Poll and Investor's Business Daily TIPP Poll are taking victory laps for predicting Donald J. Trump would defeat Hillary Clinton. But they, and those in the media citing them, are inaccurately claiming those two polls were the only two that got it right.
"Not one other national poll had Trump winning in four-way polls," IBD Editorials falsely claimed last week.
Sorry, but that's incorrect. In fact, they predicted the eventual winner, but missed the actual margin.
The People's Pundit Daily (PPD) U.S. Presidential Election Daily Tracking Poll and PPD Battleground State Polls were the most accurate in 2016, and it wasn't even close. We outperformed both polls on the national level and everyone else on the state level.
Since July, millions of political junkies and consumers visited People's Pundit Daily to keep tabs on our national tracking poll, which not only gauged the four-way race but did so months before the IBD/TIPP tracking poll even began.
On Election Day, our final results with undecideds allocated had President-Elect Trump winning by a 0.6% margin, which was and still will be closer to the final popular vote margin when all the votes are counted.
IBD/TIPP's final results gave Mr. Trump an edge of 1.6-points in a four-way race. The LA Times Poll, which I defended in October against an almost unanimous chorus of scrutiny, showed Mr. Trump up in a two-way race by 3 points.
While they didn't poll the four-way contest–something that was always an unrealistic hypothetical–it will still be several points off the actual margin.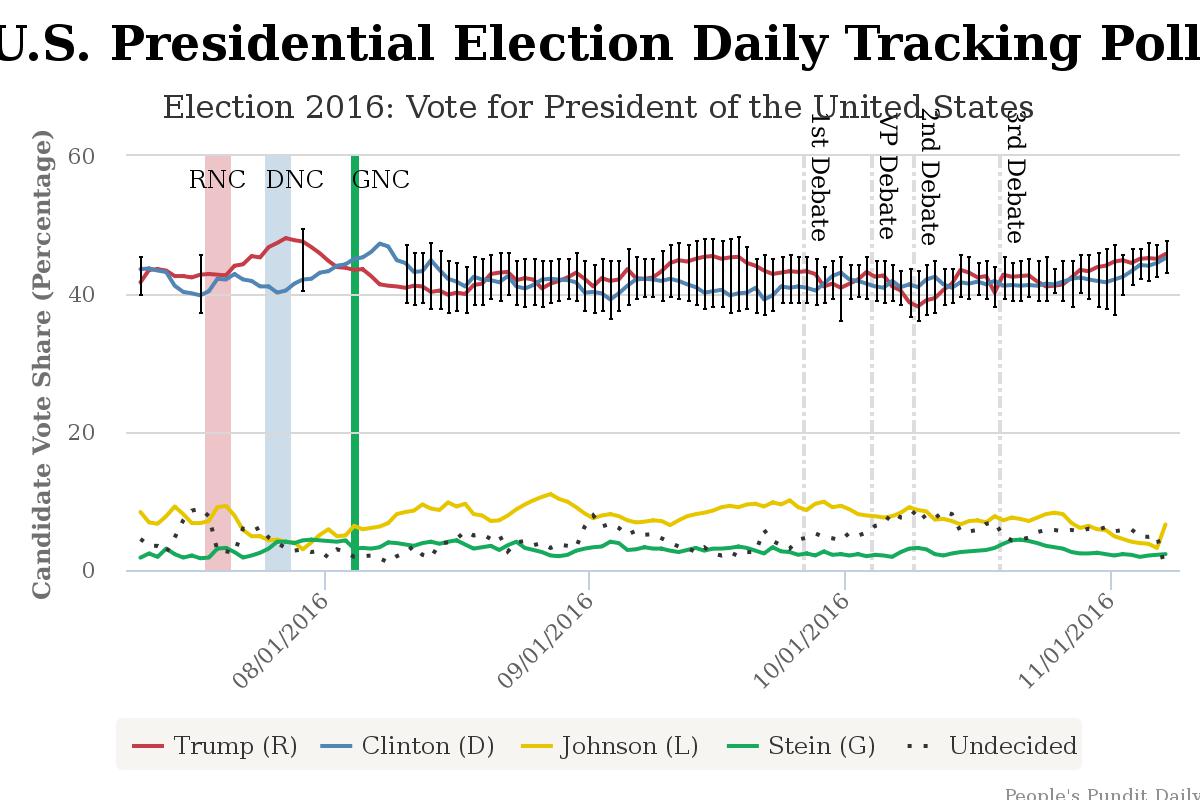 On the state level, only Trafalger Group, a Republican polling firm that correctly caught last-minute movement to Mr. Trump in Michigan and Pennsylvania, came close to PPD. The final PPD Keystone State Battleground Poll released on November 6 found Donald Trump taking 48.4% of the vote to Hillary Clinton's 47.8%, a statistical tie that nearly nailed the vote exactly.
The final results: Mr. Trump got 48.8% of the vote to 47.6% for Mrs. Clinton. It doesn't get much closer than that, particularly in a state Republican presidential candidates have failed to carry for roughly 3 decades. In Florida, where we are based, the final PPD Sunshine State Battleground Poll found Mr. Trump leading by 2 points. He won by about 1.4%.
In Michigan and Wisconsin, the final PPD Battleground State Polls found the two candidates tied but leaning to the Republican nominee by less than 0.5%. In Colorado, the final PPD Rocky Mountain Battleground State Poll found Mrs. Clinton leading Mr. Trump by 3 points, 48% to 45%. She won by 3 points, 47% to 44%. The final PPD Tar Heel State Battleground Poll found Mr. Trump leading by 3 points, 49% to 46%. He won by 4 points, 51% to 47%.
Here's the bottom line: People's Pundit Daily (PPD) is now America's most accurate pollster and election forecaster, and we won't soon be letting people forget it. Here's why.
In 2014, the PPD Election Projection Model clobbered the competition–i.e. Nate Silver at FiveThirtyEight, Nate Cohen at Upshot, Larry Sabato at the Crystal Ball and just about everywhere else. We did so in large part because of our in-house data analysis and polling models. In 2016, knowing full well we'd get hammered and/or dismissed, we decided to release our polling results for public consumption.
Against our readers' numerous objections and requests, RealClearPolitics.com refused to aggregate our results. In fact, they never even bothered to contact us despite several of their employees following me on Twitter. Upon request, we gave more than enough information to HuffPost Pollster, who falsely claimed they would aggregate our polling.
They ultimately did not.
The PPD Election Projection Model was again the most accurate election forecaster in 2016 and, overall, put out the most accurate polling before Election Day. As we explained last week, we're publicly claiming the mantel until media pollsters perform well enough to take it back from us.
That will eventually happen. But based on what we know about the challenges the polling industry faces, their repeated failures and resistance to evolution, we don't expect that anytime soon.