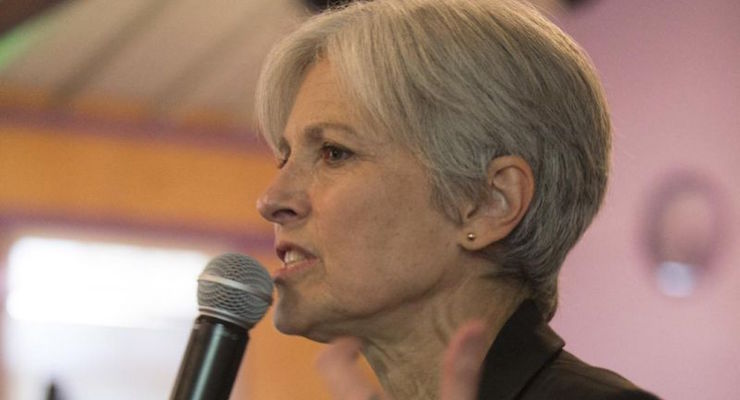 Green Party candidate Dr. Jill Stein missed the deadline to file for a voter-initiated recount in Pennsylvania, the secretary of state confirms. After months of claiming she was the only true progressive in the race unwilling to be a pawn for Hillary Clinton, she's become just that and began raising millions more than what is reported to be necessary.
"According to Wanda Murren, spokeswoman for the Pennsylvania Department of State," the Philadelphia Inquirer reported Monday, "the deadline for a voter-initiated recount was Monday, Nov. 21."
The failure to meet the deadline is a major blow to the Democratic effort to initiate recounts in the The Keystone State, Michigan and Wisconsin. The latter began conducting one on Monday, which would have to see a difference of roughly 25,000 votes to change the outcome.
Hillary Clinton and her campaign initially stated they would not pursue a recount anywhere because "we had not uncovered any actionable evidence of hacking or outside attempts to alter the voting technology." They still haven't and, over the weekend, the Obama administration said that there was no unusual cyber activity or evidence to indicate hacking occurred on election night. The White House added that the president believes the results reflect the will of the American people.
However, the Clinton-Stein alliance can still mount a legal challenge, though the chances of litigation are less than certain. President-elect Donald J. Trump beat Clinton in Pennsylvania by nearly 70,000 votes, a rather large margin for a Republican in a state the nominee hasn't carried since Ronald Reagan in 1984.
The decision by Clinton to join an otherwise irrelevent candidate in a recount effort was described by President-elect Trump and his team as stunningly hypocritical. Reacting to then-candidate Trump's refusal to say whether he would accept the election results until he assessed the situation, Clinton said during the third and final debate that it "is expected of anyone standing on a debate stage in a presidential election."
"That is not the way our democracy works. We've been around for 240 years. We've had free and fair elections," Clinton said. "We've always accepted the outcomes when we may not have liked them and that is what is expected of anyone standing on a debate stage in a presidential election."
She would follow up with the "threat to our democracy" narrative to gin up supporters and paint her opponent as temperamentally unfit to serve.
"[Trump] refused to say that he would accept the results of our election," Clinton said during a rally immediately after the debate in Vegas. "Now, I have to admit, when we were both asked the questions, I assumed he would say what everybody else has always said, which is, 'Hey, of course.' You know, because to say you won't respect the results of the election — that is a direct threat to our democracy."
Meanwhile, as PPD previously reported, experts' estimates have held steady around $2.2-2.5 million for the cost of a recount in Wisconsin, Michigan and Pennsylvania. However, Stein's fundraising page claims have changed multiple times over the last week. First, the site claimed "attorney's fees are likely to be another $1 million," in addition to other associated costs. Yet, when they were just about to hit that goal, it changed, claiming "fees are likely to be another $2-3 million."
Now, over the weekend, the fundraising website once again was updated. Now it claims the "total cost is likely to be $6-7 million."