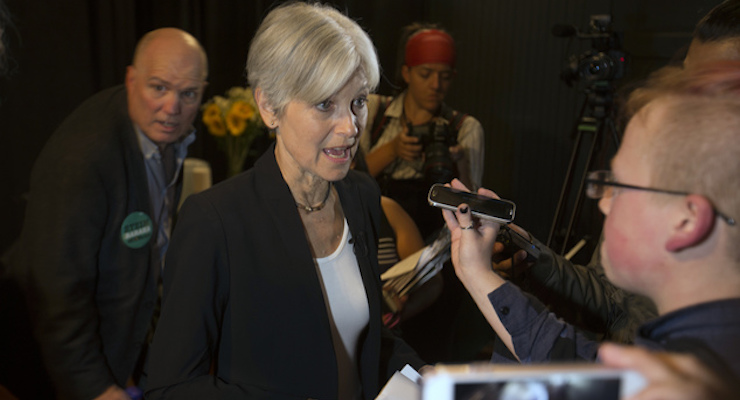 Despite unanimous agreement that there is no evidence to indicate hacking occurred on election night, the recount effort led by Jill Stein has already revealed fraud–just not the voting type.
Jill Stein is a fraud. After months of claiming she was the only true progressive in the race unwilling to be a pawn for Hillary Clinton, she's become just that. Never before in modern American political history has such an insignificant candidate had such a big say in such a historic election. That still isn't the case. Nobody seriously believes that Clinton just decided to join the recount on Saturday.
The campaign initially stated they would not pursue a recount anywhere because "we had not uncovered any actionable evidence of hacking or outside attempts to alter the voting technology." Well, they still haven't. Over the weekend, the Obama administration said "that there was no unusual cyber activity or evidence to indicate hacking occurred on election night," adding the president believes the results reflect the will of the American people.
All of this is based on the speculation of one group, the Election Integrity Project. This is the same "voter integrity" group that also claimed Clinton stole the Democratic nomination from Bernie Sanders by rigging voting machines. They didn't actually have hard proof of that. Rather they cited the disparity in performance from one county to another comparing the use of paper ballot and voting machines as evidence.
They were mocked and called a discredited organization by one of the very parties participating in the recount. Clinton's sycophants in the media played their usual role of attack dog for her and that was the end of it. But the ludicrous nature of all of this doesn't end here.
Even if there was cyber hacking, a recount has no ability to uncover it. In fact, the results of the recount are less legitimate than the initial count. Why? For the same reason the "paper ballot vs. voting machine" disparity is intellectually feeble. Even if we assume there was a legitimate disparity, recount proponents presume with no basis that it necessarily was to the benefit of President-elect Donald J. Trump.
Historically, we actually have evidence of paper ballot tampering, including in this election, and thus far not a single one of those allegations would've been to the benefit of President-elect Trump. In other words, the evidence indicates it is far more likely tampering with paper absentee and in-person ballots hurt Mr. Trump, rather than hacked voting machines hurting his opponent.
The recount–any recount–only adds the potential for further ballot tampering, while it has zero ability to identify or rectify cyberattacks on voting machines.
There's also another fraud going on here. This is the season of giving, but it's not supposed to be to the rather wealthy Dr. Stein. It's supposed to be to those who cannot feed, shelter or clothe themselves. While many of those targets are missing their worthy fundraising goals, Dr. Stein keeps moving the goal post for her scam.
Experts' estimates have held steady around $2.2-2.5 million for the cost of a recount in Wisconsin, Michigan and Pennsylvania. However, Stein's fundraising page claims have changed multiple times over the last week. First, the site claimed "attorney's fees are likely to be another $1 million," in addition to other associated costs. Yet, when they were just about to hit that goal, it changed, claiming "fees are likely to be another $2-3 million."
Now, over the weekend, the site once again was updated. Now it claims the "total cost is likely to be $6-7 million."
A bit of advice: Save your money for more worthy causes and stop contributing to the Stein Scam Fund.
Finally, as many of us have been saying for years: Hillary Clinton is a fraud. She's whatever her donors and/or the polls want her to be. The development over the weekend was slimy hypocrisy at its worst, but sadly it isn't surprising.
"That is not the way our democracy works. We've been around for 240 years. We've had free and fair elections," Clinton said during the third and final debate in Las Vegas, Nevada. "We've always accepted the outcomes when we may not have liked them and that is what is expected of anyone standing on a debate stage in a presidential election."
Then, she followed up with the "threat to our democracy" narrative to gin up supporters and the never-ending narrative to paint her opponent as temperamentally unfit to serve. Remember this Clinton said on the stump?
"[Trump] refused to say that he would accept the results of our election," Clinton said during a rally immediately after the debate in Vegas. "Now, I have to admit, when we were both asked the questions, I assumed he would say what everybody else has always said, which is, 'Hey, of course.' You know, because to say you won't respect the results of the election — that is a direct threat to our democracy."
Or, this tweet?
Donald Trump refused to say that he'd respect the results of this election.

That's a direct threat to our democracy.

— Hillary Clinton (@HillaryClinton) October 24, 2016
Yup, Jill Stein's #Recount2016 movement uncovered fraud alright.