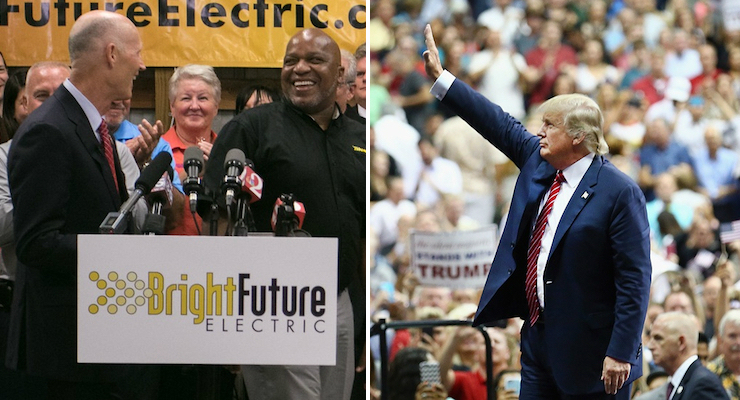 Florida Gov. Rick Scott has been mulling a run for U.S. Senate in 2018 and, now, President Donald J. Trump is reportedly pushing him to do so. Gov. Scott, the two-term governor of the nation's largest battleground state, would challenge incumbent Democratic Sen. Bill Nelson.
Politico, the leftwing D.C. insider online magazine, reported "the loyal Trump ally looks increasingly likely to take the leap."
Sen. Nelson, who first ran for and was elected to the U.S. Senate when he pursued the seat vacated by retiring Republican Senator Connie Mack III, has previously enjoyed popularity and bills himself as a moderate Democrat. He was re-elected in 2006 with 60% of the vote and in 2012 with 55% of the vote. However, Gov. Scott knows how to win, is largely responsible for a state economy that is "firing on all four cylinders" and built a substantial ground game.
That ground game, which beat Barack Obama's on-loan to Charlie Crist in 2014, was key to President Trump's significant victory over Hillary Clinton in November.
"We need you in the Senate. We need business guys like you," President Trump allegedly told Gov. Scott in a phone call. The one source who'd been briefed on it was paraphrasing the conversation, but added that the president said he would help the Republican governor raise money. But it would be campaigning, holding rallies and drawing massive crowds that could be the biggest boon to Gov. Scott.
Mr. Trump's rallies weren't just about energy, they were voter data mining operations. A large vote in the Panhandle would be needed to overcome Sen. Nelson's advantage in the Southeastern part of the state, a Democratic stronghold both Mr. Trump and Gov. Scott performed exceedingly well in as Republicans.
[social-media-buttons]
The Republicans have control of the U.S. Senate with 52 seats and 10 Democrats are up for re-election in states President carried, many by substantial margins.
FYI: Mr. Caputo is 100% right. Scott built a GOTV that beat Obama's on-loan to Crist and when his was on-loan to Trump, it defeated Clinton. https://t.co/hh1TdXV0z8

— Richard Baris (@Peoples_Pundit) January 31, 2017