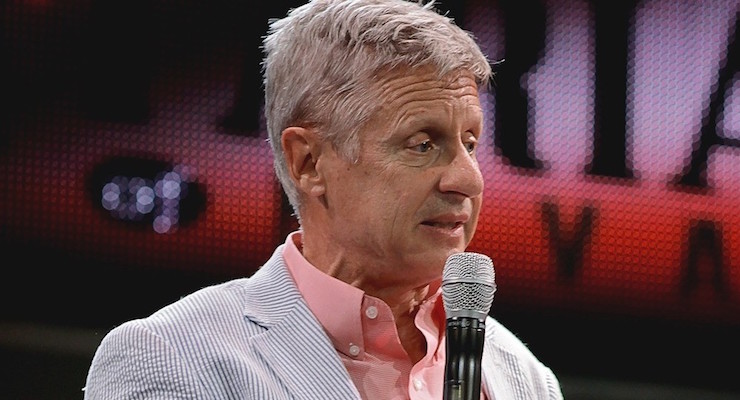 Former New Mexico Gov. Gary Johnson, the two-time Libertarian Party presidential candidate, says he's lost faith in the electoral process and vowed never to run again. He will now focus all his efforts on legalizing marijuana.
The laissez-faire Libertarian candidate received mostly mocking Bid Media coverage before the election in November, specifically after he made a gaffe on MSNBC answering a question on Allepo, Syria. It didn't know what it was, let alone that it was a place. Libertarians, of course, have little interest in foreign interventions, which seemed to be lost on the pundits.
Gov. Johnson was nominated on May 29, 2016, at the Libertarian National Convention in Orlando, Florida, with 56% of the vote. Former Massachusetts Governor William Weld was endorsed by Johnson for the Libertarian vice-presidential nomination, which he received on May 29, 2016.
Govs. Johnson and Weld became the first ticket of any party to feature two governors since the 1948 presidential election and ended up receiving nearly 4.5 million votes nationally, far more than his 2012 popular vote total. While still not a viable electoral force, the 2016 presidential election marked the Libertarian Party's most successful presidential run to date and the most successful third-party candidacy since Ross Perot in 1996.
Worth noting, it was thought before the election that Gov. Johnson would at least take an equal vote share from both Republican Donald J. Trump and Democrat Hillary R. Clinton. In the past, Libertarians have drawn more from Republicans and, despite multiple claims to the contrary, PPD's post-election analysis shows Gov. Johnson drew from President Trump more than Mrs. Clinton in all but a few states.