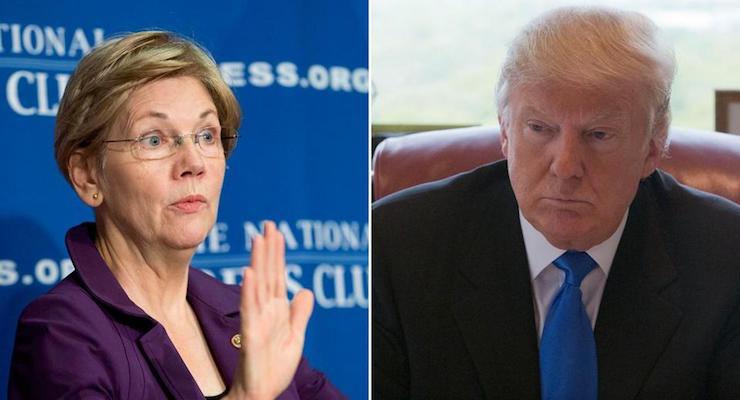 [brid video="122428″ player="2077″ title="Trump 'Would Be a Dream Come True' to Run Against Elizabeth Warren in 2020″]
President Donald J. Trump said in an interview with Fox News host Jesse Watters that he would beat Sen. Elizabeth Warren, D-Mass., "so badly" if she ran in 2020. When Watters noted the possibility of Warren running in 2020, Trump replied, "I hope so."
"That would be a dream come true," the president replied.
President Trump slammed Sen. Warren, a frequent critic, for her "craziness" and "anger" on the campaign trail last year when campaigning for Hillary Clinton. While considered a darling of the far left, many activists who formerly supported Bernie Sanders are angry with Warren for not endorsing him during what was a rigged primary.
"I think she hurt Hillary Clinton very badly," he said. "I watched those speeches — the anger, the hatred, in her heart — and I said, 'Ya know, she's really bad for Hillary.'"
As the Republican nominee, he mocked Warren's claim that she's of Native American heritage, one she used to get in Ivy League circles as a student and academic, which has now been debunked.
"Pocahontas would not be proud of her as her representative, believe me," President Trump added.
Recently polling indicates Sen. Warren may have an easier time carrying her deeply blue state during a presidential election than her own reelection. Most voters in Massachusetts think she doesn't deserve to be reelected. Why? Because she spent too much time staging a presidential run by picking fights with President Trump than doing her job.