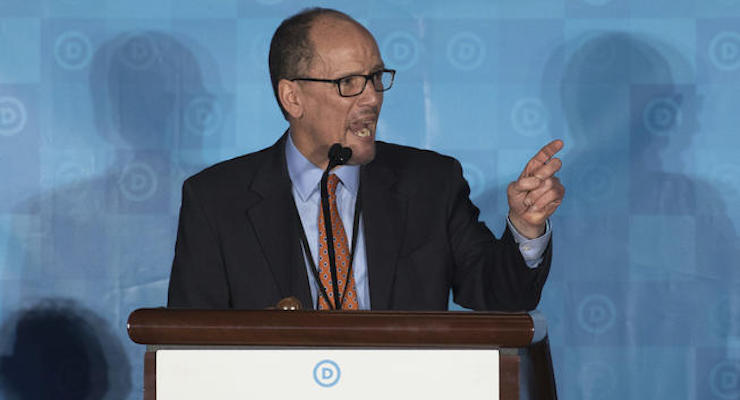 Former Labor Secretary Tom Perez has been elected chairman of the Democratic National Committee (DNC) on Saturday, defeating Minnesota Rep. Keith Ellison. The vote came in at 235 votes to 200 votes.
Rep. Ellison, the first Muslim elected to the U.S. House of Representatives, was previously the favorite and was backed by the hard leftwing of the party, including Vermont Sen. Bernie Sanders. But he was derailed when his anti-semitic views were revealed in audio and publicly opposed by predominant Jewish members of the party, such as Alan Dershowitz.
Mr. Dershowitz, a liberal law professor at Harvard, wrote an op-ed threatening to leave the Democratic Party if Rep. Ellison was elected to head it up. The Anti-Defamation League (ADL), which originally backed the Minnesota Muslim representative, bailed on his bid to be the new chair after the audio surfaced.
The leftwing group, which bills itself as an anti-bigotry organization, released a statement saying it "raises serious concerns about whether Rep. Ellison faithfully could represent the Democratic Party's traditional support for a strong and secure Israel."
However, his ties to the radical Nation of Islam and his defense of anti-Semitic leaders such Louis Farrakhan had already been well known. And the new victorious DNC chair isn't without controversy, either.
Mr. Perez, a former Department of Justice (DOJ) assistant attorney general, also came under a microscope after President Barack Obama announced his nomination for secretary of the Labor Department. Before his confirmation, an inspector general report concluded the department was grossly mismanaged, career attorneys were abused and intimidated by and under him.
The report also revealed threats made toward black employees who were willing to work on cases like the New Black Panther voter intimidation case, as well as another case in Mississippi. All involved civil rights violators and perpetrators who were black and white victims. In one such case, then-Acting Assistant Attorney General Loretta King complained to then-Attorney General Eric Holder over Voting Section Chief Chris Coates.
King didn't like that Coates, who had brought and managed the New Black Panther voter intimidation case, was willing to use civil rights laws to protect white voters. Perez got the order to "take care" of King.
He also found himself in political hot water previously after he was caught abusing his power during a secret quid-pro-quo deal in 2011 with the city of St. Paul, Minnesota. He later perjured himself when he told Congress that the DOJ agreed not to intervene in two whistle-blower cases against St. Paul–in exchange for the city dropping its Supreme Court petition–because the cases were "weak."
However, emails obtained after the Mr. Perez gave his congressional testimony clearly demonstrated career lawyers at DOJ believed those cases were strong.
Following their defeat up and down the ballot in the 2016 election las November, the party infighting has been intense. Now that they hold the weakest electoral position across nation since the 1920s, the party is looking to overhaul their image and brand after they suffered the devastating defeat.
The one faction believes the Democratic Party should move even farther to the left and another that believes they have completely lost touch with middle America and the working class. Neither frontrunner gave a voice to the latter, and House Democrats again reelected Rep. Nancy Pelosi, D-Calif., to lead the fractured caucus for an 8th term.
[social-media-buttons]