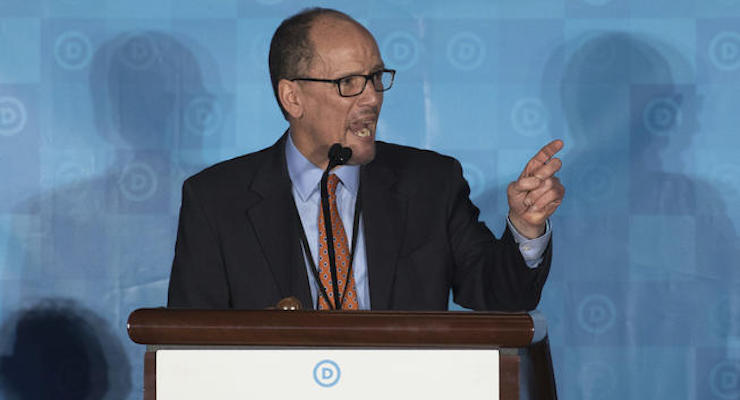 Tom Perez, the new chairman of the Democratic National Committee (DNC), asked the entire staff to submit resignation letters. The decision comes after a slew of electoral disasters for the Democratic Party, which Mr. Perez took over after internal threats against voting for Minnesota Rep. Keith Ellison.
In a statement, Perez spokeswoman Xochitl Hinojosa characterized the move as a typical part of any leadership transition.
"This is longstanding precedent at the DNC and has happened during multiple Chair transitions," Hinojosa said. "The process was started before the election of the new Chair. From the beginning, Tom has been adamant that we structure the DNC for future campaigns. Current and future DNC staff will be integral to that effort. Over the last few months, the DNC staff has done incredible work under immense pressure to hold Trump accountable."
Asking for the resignation letters makes the process of deciding who to keep, regardless of how many are eventually let go, much easier. Shortly after Perez, the former controversial Labor Secretary under Barack Obama became the party's chair in late February, the DNC requested resignation letters to be dated April 15.
Ellison, the first Muslim elected to the U.S. House of Representatives, was previously the favorite and was backed by the hard leftwing of the party, including Vermont Sen. Bernie Sanders. But he was derailed when his anti-semitic views were revealed in audio and publicly opposed by predominant Jewish members of the party, such as Alan Dershowitz.
From 2008 to 2016, the Democratic Party has lost a net 9 seats in the U.S. Senate, 63 in the U.S. House of Representatives, 13 governorships, 949 state legislative seats and full control of 29 state legislatures.
Going into an election pundits proclaimed they were certain to win from top to bottom, they held full control in only 7 states. Now, they only hold only 5–California, Delaware, Oregon, Hawaii and Rhode Island–after the GOP tied it all up in the Connecticut state Senate.
In April, a sco-called unity commission will begin work on recommendations for a number of party issues, including changes to the nominating process. WikiLeaks releases during the election revealed the DNC sought to rig the nomination contest for Hillary Clinton and against Sen. Sanders.
Donna Brazile, the outgoing DNC head who served as the party's interim chair during last year's election, leaked debate questions from CNN to the Clinton campaign on several occasions.
She replaced former Chair Rep. Debbie Wasserman Schultz (D-Fla.), who got a cushy role in the Clinton campaign after being ousted during the Democratic National Convention in Philadelphia.