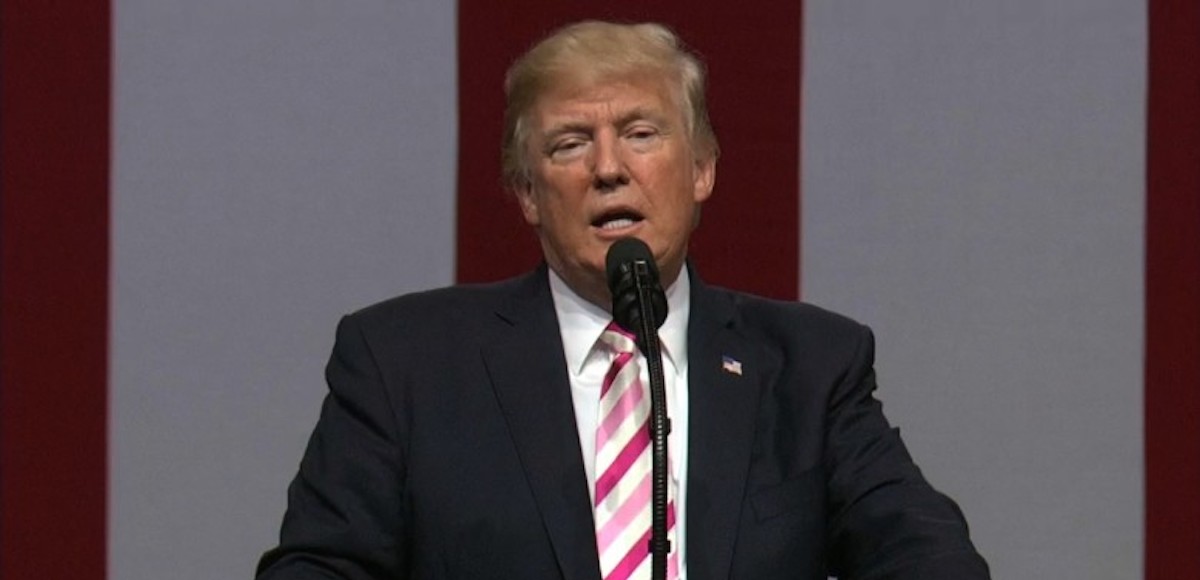 President Donald Trump rallied for Senator Luther Strange in Huntsville, Alabama on Friday and sought to distance him from Majority Leader Mitch McConnell. Sen. Strange is running in the primary runoff Tuesday against Judge Roy Moore, and the winner will go on to face Democrat Doug Jones in December.
"He doesn't even know Mitch McConnell, at all. He doesn't kowtow or deal with anyone. Luther's a tough cookie," President Trump said. "We have to be loyal in life. There's something called loyalty."
In a rare moment for any president, he told voters exactly why he endorsed Sen. Strange over Judge Moore, who clearly is favored by his base. He told the crowd a behind-the-scenes story about how he had to woo lawmakers for their vote on a bill they promised to support during the campaign. When he called one legislator after another, they asked favors of the president in the form of dinner or meeting a friend etc.
But when it came to the calling Sen. Strange, he asked for nothing and vowed he would have his support.
And when the vote came, he gave it.
Last night, former Alaska Governor Sarah Palin told the crowd at a rally for Roy Moore that a vote against Sen. Strange is not a vote against President Trump but rather one for the "people's agenda," which got the working-class businessman elected in the first place.
"We're sending Trump someone who has our back — not Mitch McConnell's," Gov. Palin said. "Make no mistake: Big Luther is Mitch McConnell's guy."
The narrative has hurt Sen. Strange, who trails by roughly 9 points in the average of polls. It's also untrue, at least according to President Trump.
"Since the first day he's been in the Senate, he's been a friend," he said. "He's been for us. He's not a friend of Mitch McConnell."
The race has pitted President Trump himself against Trumpland, which backs Judge Moore. Even Housing and Urban Development Secretary Ben Carson released a statement all but endorsing Judge Moore.
"Judge Moore is a fine man of proven character and integrity, who I have come to respect over the years. I was delighted to hear he is running for the U.S. Senate," Secretary Carson said. "He is truly someone who reflects the Judeo-Christian values that were so important to the establishment of our country. It is these values that we must return to in order to make America great again. I wish him well and hope everyone will make sure they vote on Tuesday."
The president said he would be in Alabama "campaigning like hell" for Judge Moore if he does defeat Sen. Strange next week. The winner of the race will serve out the rest of Attorney General Jeff Sessions' term, which ends in January 2021. The attorney general came up when President Trump, for the first time ever, responded to chants of "Lock Her Up" in reference to Hillary Clinton.
"You got to speak to Attorney General Sessions about that," he said before praising him for his work on illegal immigration and sanctuary cities.
He slammed Republicans, particularly Arizona Senator John McCain, for the failure to keep their promise to repeal ObamaCare. He vowed to continue to push the Republican majorities in the House and Senate, comparing it to getting knocked down in a boxing match and getting back up.
"They finally have a president that will sign the legislation and they don't have the guts to vote for it," he said. "They got elected to repeal ObamaCare and they are doing a disservice to the people who elected them."
"It's like a boxing match. You get knock down, you get up."
He ended with a plea to voters across the state to get out and vote.
"On Tuesday, vote for your family. Vote for your country. Vote for your victory," President Trump said. "Vote for Luther Strange."