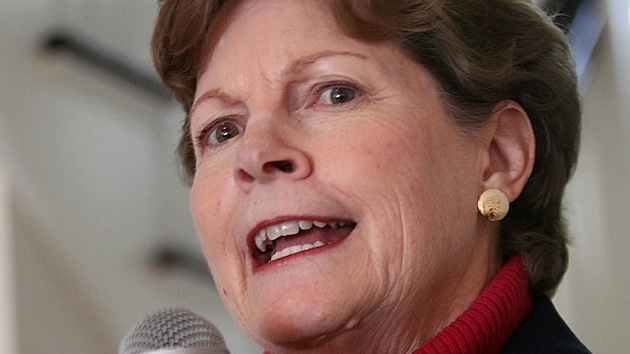 Incumbent Democratic Sen. Jeanne Shaheen is under fire after a Boston Herald report uncovered that she skipped out of key hearings on terrorism. Shaheen has stayed out of sight in the middle of her embattled re-election campaign against former Massachusetts Sen. Scott Brown, who has been surging amid the ISIS terror threat and illegal immigrants pouring across an unsecured southern border.
"Shaheen needed this like she needed another ObamaCare rollout," says PPD's senior political analyst Richard Baris. "Brown is just coming out with a big ad buy highlighting national security and border issues. If this story grows legs, it could be a real problem."
New Hampshire Republicans are trying to do just that, criticizing Shaheen for missing key hearings on ISIS and Syria, even though she voted to authorize airstrikes arm Syrian rebels she may know little about. The GOP got more help from former Sen. Gordon Humphrey, who accused her of a "dereliction of duty."
Democrats fired back at Republicans, claiming Brown also missed dozens of Homeland Security Committee meetings. However, Brown was on Army National Guard duty for most of his time representing Massachusetts in the Senate and often had took days or weeks off to serve Guard duty, including one two-week tour of duty in Afghanistan. Further, there was no ISIS threat during Brown's tenure, which cannot be said about Shaheen's.
According to the Herald, Shaheen missed 14 out of 30 Foreign Relations Committee hearings in this congressional session. Shaheen also skipped a hearing on April 2013 when a top Treasury official reported that a new terrorist group, now known as ISIS, had made advances and now was posing a serious threat. She also missed hearings on Syria and Iran.
Republicans say the missed hearings show there is a pattern of Shaheen being an "absentee senator," along with her refusing to hold town hall meetings. Shaheen disappeared for nearly two days, with no public campaign events scheduled in the Granite State for as much as time.
The Herald reported she was absent from her coveted seat on the Foreign Relations Committee for nearly half of the panel's public hearings the last two years.
"Brown needed to be trailing in the single digits by September, otherwise national money would not have supported him," Baris said. "Not only did he beat their expectations running an old-fashion retail politics campaign, but exceeded them without a whole lot to spend."
Baris says New Hampshire Republicans already exposed a vulnerability in national security and the border and, with less than 50 days until Election Day, Shaheen needs no more surprises.
"We still see Shaheen as the slight favorite in this race but that can change on a dime," he added. "New Hampshire breaks late and with the nation. If stories like this gain traction and the national environment deteriorates further for Democrats, Sen. Shaheen will find herself swept right out of office."