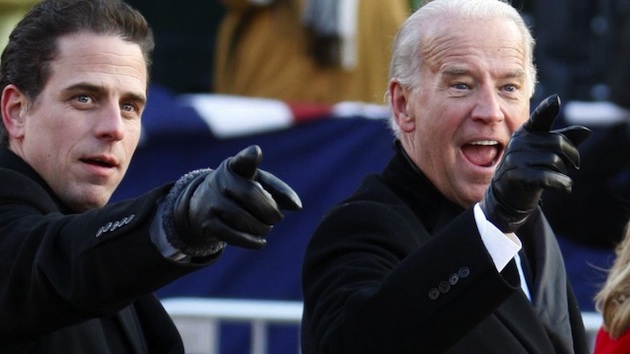 Hunter Biden, the son of Vice President Joe Biden, says he is "embarrassed" now that it has been revealed he was kicked out of the Navy for cocaine use. While it was known that Biden's son was discharged from service, the Wall Street Journal reported the discharge came only after testing positive for cocaine.
Citing people familiar with the matter, the late Thursday report claimed that Hunter Biden's short-lived military career ended because he failed a drug test, which was administered after he failed to report to his unit in 2013. The Navy discharged him in February of this year.
Biden said in a statement to that he respects the Navy's decision, but did not specify why he was discharged.
"It was the honor of my life to serve in the U.S. Navy, and I deeply regret and am embarrassed that my actions led to my administrative discharge," he said. "I respect the Navy's decision. With the love and support of my family, I'm moving forward."
However, Biden was given a drug test after finally reporting to his unit at Navy Public Affairs Support Element East in Norfolk, Virginia, and tested positive for cocaine. Still, the Navy refused to tell PPD the nature of the discharge — honorable or dishonorable.
Vice President Biden spoke about his son's decision to join the Navy late in life at the American Legion's Salute to Heroes Inaugural Ball in 2013, joking that his son's decision was a result of poor judgment.
"We have a lot of bad judgment in my family," Biden said. "My son over 40 just joined the Navy to be sworn in."
And, yes, the vice president is seriously considering yet another run for president in 2016.
Hunter Biden was commissioned as an ensign in the Navy Reserve in 2013 only one year after he decided to join as a public affairs officer. He is a lawyer and managing partner for a Rosemont Seneca Partners, an investment firm. He made headlines earlier this year when he was hired to be a director and lawyer for a Ukraine company promoting energy independence from Moscow.
Of course, the headline was surprising, considering Vice President Biden and others in the Obama administration have attempted to influence energy policies and other issues of the Ukrainian government as it battles Russia and pro-Russian separatists to control the county.
A person claiming to have a video that reportedly shows Ashley Biden snorting cocaine, who is the vice president's youngest child, has been attempting to sell the footage to various news organizations. A lawyer, who describes himself as a "friend" of the seller, says a man is seen on the video cutting five lines of cocaine for Ms. Biden, who jokingly says they aren't big enough before she pulls her hair back to bend over and use the drugs.
Ashley Biden was arrested twice in the past — once for possession of marijuana and another for a disorderly person charge — both of which, were later dropped.